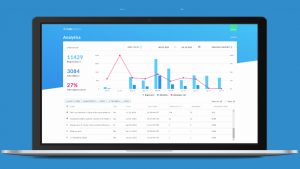 LogMeIn has announced a redesigned user interface for its webinar application. Hosted webinars are an effective marketing tool if done well. LogMeIn has enhanced its GotoWebinar product to match some of the latest trends in Webinars to maximise starting attendance, ending audience and analysis of attendance afterwards. It has improved usability, especially for mobile users, the onboarding and the participation experience.
All users will automatically gain the additional features for no additional cost. According to LogMeIn the prices will remain unchanged.
What is new?
The new features include:
Enhanced dashboards both for administration and or analytics of webinars both future and historic.
Enhanced mobile experience. This includes the ability for organisers to create events or check on attendees from any device, even during a webinar.
More integrations. This not only includes integrations to CRM applications but LogMeIn has also created a deep integration with GoToStage to publish and preserve webinar content.
LogMeIn has also integrated some of the best practices it discovered when compiling the Big Book of Webinar stats.
Tighter Integration with GotoStage
GoToStage is an on demand video hosting platform from LogMeIn. First launched in October 2017, it has at least 11,499 videos (a search for webinar returned that number). Unfortunately, there is limited filtering and search capability yet.
GotoWebinar users are now able to publish their webinars immediately after completion. They are then able to share the content and continue to use the webinar to generate leads or for training purposes. They can also host Pre-Recorded Events there.
Whats next?
LogMeIn is also promising to deliver a transcription service for webinars. It will be interesting to see how good this is compared to other online transcription services which rarely cope well with accents.
What does this mean
Jon Cho, Senior Director of Product for GoToWebinar at LogMeIn commented: "GoToWebinar pioneered webinars, and now we've reinvented the experience with the next generation of our product, making it easier than ever for our hosts to create engaging content. GoToWebinar allows users to reach customers or prospects in an engaging way to generate leads or offer on-demand or live training, all to ultimately drive more business. With this redesign, we wanted to refresh the entire hosting experience and make it smarter and more intuitive from end-to-end to meet the needs of those using GoToWebinar and their audience."
Webinars are a recognised vehicle for marketing. While many organisations look to deliver them they often produce content that can equally be listened to as a podcast. LogMeIn are however, enhancing the webinar experience and for those customers who have stopped using the service it might be worth another look. Carefully considering the objectives and best practices that GoToWebinar now suggest, before rushing in and producing a webinar that adds little value.