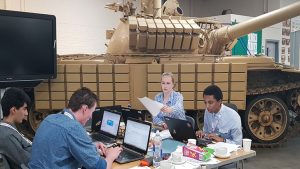 The recent Cyber Security Challenge Face to Face (F2F) competition was set by the National Crime Agency. The goal was to introduce contestants to a part of cybersecurity that is often overlooked; the need to gather data to an evidential standard. This means applying forensic approaches to how data is retrieved, examined and stored.
Craig Jones from the National Crime Agency took time out from watching the competitors to talk to Enterprise Times. He spoke about the challenge that the NCA faces in attracting the people with the right skill set to work with the agency.
Gathering the right forensic data is not easy. Criminals are increasingly forensically aware today. In the cyber security space, even experienced researchers are discovering that some attacks are very hard to uncover and detail. What the NCA needs is people who can start that process when responding to a crime victim.
The NCA set the F2F a challenge that required data gathering and forensic techniques as part of running an investigation. These are all things that Jones says are needed by law enforcement. Jones was also aware of the need for greater diversity especially when it comes to attracting people at a younger age including straight from university.
One of the long-term goals is to provide a wider awareness of forensics in cyber security. It means that IT security teams will be able to deal with incidents in a way that aids the police rather than hamper an enquiry.
To hear more of what Jones had to say listen to the podcast.
Where can I get it?
obtain it, for Android devices from play.google.com/music/podcasts
use the Enterprise Times page on Stitcher
use the Enterprise Times page on Podchaser
listen to the Enterprise Times channel on Soundcloud
listen to the podcast (below) or download the podcast to your local device and then listen there