DevOps consultancy and training organisation, the DevOpsGroup, has launched the DevOpsGroup Academy. It's self-proclaimed mission is to: "eradicate the UK's tech skill shortage and invest in the high-performing IT professionals of the future." This will be achieved through a new range of courses and graduate internships.
In addition, the DevOpsGroup is aiming to build new educational collaborations between universities, government and the commercial sector.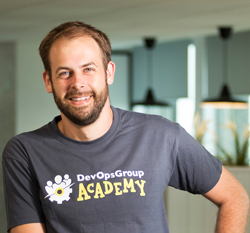 James Harvey CEO and Head of DevOpsGroup Academy said: "DevOpsGroup has always been driven by a passion for enabling IT transformation at the speed of disruption. DevOpsGroup has ran a fantastic, forward-thinking internship scheme, since 2015, which we plan to take to the next level with the DevOpsGroup Academy, providing a mixture of formal and practical training to those looking to forge a career in the technology sector."
Internship to boost experience
Expanding the internships will interest organisations and those aiming for a career in DevOps. There is a big gap between what can be learned on courses and putting that into practice. Being able to apply that knowledge to real-world situations is often difficult. An Internship is an opportunity to learn what works, what doesn't and to develop skills without the pressure of employment.
Organisations gain out of this as well. Many struggle to find DevOps staff and don't have the time, money or even will to train and develop new staff. An internship allows potential employers to get a good look at someone before offering them a job. It also allows them to experiment with DevOps to see how it will impact their organisation.
The DevOpsGroup already has a good relationship with Cardiff University. It expects to use the academy to expand that work. According to Harvey: "We will build on the fine work that's been done to date in developing technology talent in South Wales and accelerating Cardiff's tech ecosystem."
He later added: "We are also launching a new summer placement internship with the National Software Academy at Cardiff University, as well as piloting a really innovative DevOps 'bootcamps'."
What does this mean
DevOps is one of those technologies that most individuals have to learn 'on the job'. Done properly it can bring significant benefits to an IT department. It can improve the quality and security of code as well as increase the cadence of delivery. More importantly, it can speed up the patching of infrastructure. This helps reduce the significant delays that most enterprises have when it comes to ensuring their infrastructure is secure.
Working with universities to ensure that DevOps is taught as part of the curriculum is a major step forward when it comes to wider DevOps adoption. The internships ensure that students get a real taste of DevOps in practice.