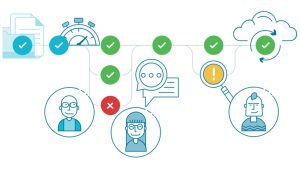 DevOps vendor CloudBees has released CloudBees Core as a Kubernetes-based solution on the Google Cloud Platform (GCP) Marketplace. This is the company's first product to be delivered as a Kubernetes-native application. Formerly known as Jenkins Enterprise, CloudBees Core provides users with end-to-end coverage of all software delivery pipelines.
Jason Mero, vice president of business development, CloudBees said: "The ability to easily deploy CloudBees Core on Kubernetes in a single click significantly reduces the overhead required to manage an enterprise continuous delivery platform that is vital to adopting a DevOps culture and transforming the business."
The announcement has been made at Google Next which is being held at the Moscone Center in San Francisco. CloudBees is one of the first companies to announce it is available on the GCP Marketplace. This means that customers can deploy CloudBees Core to Google Kubernetes Engine with one click. It will hope that this gives it a jump start over other DevOps providers who are likely to announce their Kubernetes-based solutions soon.
Why release CloudBees Core as a Kubernetes-native application?
Organisations want to run their apps both on-premises and in any cloud of their choosing. In doing so they do not want to spend time and money learning different interfaces or working out how apps behave in different environment. They want a consistent, repeatable experience. In addition, they also want to be able to deploy fast and at scale.
Making CloudBees Core a Kubernetes-native application allows CloudBees to deliver all of this. Customers can deploy the container across on-premises and cloud. Importantly, although this first outing for CloudBees Core is on the GCP Marketplace, it can be run anywhere that supports Kubernetes. This means that customers with multiple cloud environments can deploy everywhere without having to worry about dependencies on different cloud platforms.
What does this mean
The growth of Kubernetes and the wider adoption of DevOps makes this a smart move by CloudBees. It gains from being one of the first vendors on the new GCP Marketplace. The ability to deploy across multiple cloud environments with a single click also works in its favour. Speed, consistency and reliability are all key demands from organisations today.
The next step for CloudBees will be deciding what to do with its other DevOps solutions. It makes sense for them all to be released as Kubernetes-native applications. This would speed up customer adoption of CloudBees DevOps solutions.