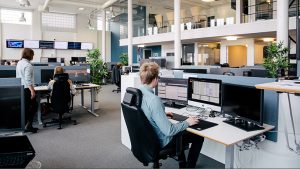 At a recent NTT Security event in Frankfurt, Enterprise Times sat down with Rene Bader to talk about enterprise challenges when moving to the cloud. One of the first challenges that Bader and his team face is refocusing the client. The key is to stop them thinking infrastructure and to focus on the application. Once that happens then they can start to separate the application from the underlying hardware, making it portable across multiple clouds.
The new world of software means applications talk to each other through a variety of interfaces. Bader says this means internal silos have to change and communicate better. Until this happens, dealing with cyber security is not easy.
APIs are part of the way applications interact especially when it comes to digital transformation. Bader says maybe 5-10% of his customers have strong security focus on APIs. Worryingly, many see security as a blocker when it comes to APIs. Given the risks from a supply chain attack, this is should worry.
Bader goes on to talk about encryption and the challenge of compliance. What should we encrypt and how?
There are many 'reasons offered' inside organisations to avoid undertaking data encryption. Most they are no more than excuses. Despite the rise of compliance, many organisations focus on applications and performance than they do on compliance.
Blockchain inevitably became part of the conversation. Bader encounters many companies which struggle to understand how to use it and what it offers. He discusses the challenge of deciding where and when to use blockchain or existing technology.
To hear more of what Bader had to say, listen to the podcast.
Where can I get it?
obtain it, for Android devices from play.google.com/music/podcasts
use the Enterprise Times page on Stitcher
use the Enterprise Times page on Podchaser
listen to the Enterprise Times channel on Soundcloud
listen to the podcast (below) or download the podcast to your local device and then listen there.