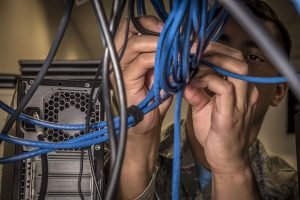 Ribbon Communications has signed a 50,000 seat Unified Communications (UC) deal with the US Department of Defense (DoD). The deal is being promoted as one of the largest VOIP deals ever completed. Interestingly, it is aimed at a single DoD location rather than being part of a wider deployment.
The deal will see Ribbon Communications replace two existing legacy UC solutions. It is part of the US DoD's Everything Over IP initiative. Ribbon Communications will hope this is the first of several wins for the company.
Steven Bruny, Executive Vice President of Global Operations for Ribbon Communications said: "We have been working closely with the Department of Defense and our solutions partners for several years to meet the demanding requirements of DoD deployments. It is very rewarding for our team and our partners to have successfully completed a migration of this magnitude. We believe it is a reflection of our commitment to standards and innovation and are pleased that we could provide DoD a path forward without having to start over."
Why is the US DoD investing in UC?
Delivering secure communications globally is a significant challenge, even for military organisations. Running multiple communications streams incurs expense, increases complexity and creates risk. It is not just about securing the communications. Devices are a major challenge in the field for military units today. Soldiers deploy with their mobile phones which have applications capable of (intentional or unintentional) location tracking. This is a serious risk for military units. Add to this the use of consumer grade communication channels, such as voice, and the risk profile expands.
The DoD wants to ensure all communications are secure. This is not just about communicating to units and commanders in the field. Internal communications within HQs also need to be secure. UC solutions provide a basis to do that. Encryption can apply to all UC channels. Multi-channel communications can be stored and integrated so that, as commands pass across different medium, it is possible to track who says what and when.
Importantly, it is possible to encrypt to a high level all UC channels. This ensures that, irrespective of the type of communication, those communications are as secure as is possible. From a military standpoint, this is paramount.
The use of IP-based solutions also provides resiliency for the communications channel. Any communication is routable through secure networks or, when necessary, pushed across public networks.
What else do we know about this deal?
Enterprise Times asked Ribbon Communications for clarification on what it is supplying and its use. Greg Zweig, Director of Solutions Marketing at Ribbon Communications, responded.
When we asked if this was base to base communications Zweig told us no. "This is a single site contract for 60,000 seats in one office location/command and control centre rather than between multiple locations. This is also one of the largest VoIP deployments in the history of the Department of Defence, replacing a large legacy PBX system."
We were also interested in whether this would involve field units to secure remote communications. Zweig told us: "This deployment is for fixed technology such as desktop handsets, fixed telephone devices and PCs/Macs. (There is) no mobile component currently but there is capacity for expansion if needed. Laptops from on-site can be used elsewhere as long as they (are) on an approved network."
Interestingly, there is a video component to this. For internal base communications this would have a limited application. The obvious inference is that this will end up being deployed to other locations and even to units in the field.
Encryption, as expected, was something that Zweig was unable to comment on. He wouldn't even confirm if Ribbon Communications was going to provide its own solution or if the DoD would integrate with a solution from another vendor.
What does this mean?
Ribbon Communications is not the only supplier in this deal. It also involves Verizon, Black Box and Visioneering. Verizon is responsible for implementing the move to UC across the whole of the DoD. Given the apparent success of this project, Ribbon Communications must hope it can win more business as this project continues. Its support for large numbers of endpoints gives it a realistic chance.
For the DoD, there is also a cost element to this. Deploying a UC based solution means the software can integrate with existing devices. The advantage of this is the DoD does not need to replace existing hardware. Instead it can quickly and easily deploy the new UC clients, which saves time and money.