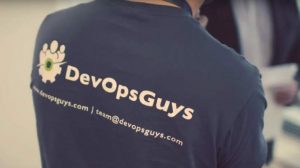 DevOpsGuys has announced a funding round by the Business Growth Fund as it prepares for future growth. The company has also changed its name from DevOpsGuys to DevOpsGroup as it looks to grow the business. The press release cited the name change for diversity reasons. It already has several women working for it, including Kate Jones, Operations Director. The company also announced the acquisition of Agile Snap and several new board members.
Preparing for growth
DevOpsGuys is a consultancy that offers professional services for companies looking to introduce DevOps processes and Agile into its IT operations processes. It uses a three-tiered approach to educate, automate and transform existing IT processes. This enables companies to adopt agile methodologies, continuous development and continuous delivery processes to meet flexible business requirements that the modern organisation often requires.
To strengthen its training academy it has acquired Agile Snap, a certified Agile training company for an undisclosed amount. It had previously worked in partnership with Agile Snap for several months. Agile Snap founder, James Harvey stated: "We're absolutely thrilled to become part of the DevOpsGroup. Agile Snap and DevOpsGroup have always had extremely aligned core values and after working in partnership for over 18 months, this was a natural progression. We are committed to providing the very best learning opportunities to develop excellent IT talent and we're incredibly excited to be a part of evolving this vision as part of the DevOpsGroup Academy."
Harvey will lead the DevOpsGroups' Academy Business Unit and the combined company should benefit from the economies of scale.
Investment also brings people
There is a growing desire for organisations to adopt the continuous delivery processes that DevOpsGroup advocates. This means that there is a growing market, both in the UK and elsewhere. BGF claims to be the most active investment company in the world. Based in the UK it has invested £1 billion in more than 220 companies, including a few professional services companies.
As part of the investment by BGF there are four new senior appointments at the company. One of these is Adam Hale as chairman. Hale led Fairsail as executive chairman and subsequently CEO from startup to scale up. He helped grow the company from £1m in 2013 to £10m in 2016. He was also involved in selling the company to Sage, where he led Sage People for a further 8 months.
Hale commented:  "I see this as the end of the beginning for DevOpsGroup. It has been a great five years and we are now setting it up for the path to global leadership. Certainly, getting external investment is part of that. But it is also about building on the partnerships it already has in place with organisations such as Amazon Web Services (AWS) and Microsoft and to continue to develop its talent. DevOpsGroup has a unique ability to help organisations such as Admiral Insurance achieve their digital transformation agenda and to help digital companies such as Skyscanner become truly Global leaders."
It has also appointed Coco Brown and Alex Garfitt (of BGF) as non exec directors. Brown is currently now CEO of The Athena Alliance, an organisation dedicated to advancing diversity in the boardroom. Paul Heywood (Vice President of Worldwide Sales & Business Strategy at Oracle) continues in his role as non-exec director, one he has held since 2013. The company has also appointed James Henderson as chief finance officer, bringing a level of experience to the board that should assist its planned growth.
James Smith, founder and CEO of DevOpsGroup, stated: "When Steve Thair and I started this company in 2013, we were two technologists from Development and Operations, with a belief that we could make a real difference to the way companies delivered IT services by putting people, process, and technology at the heart of digital transformation.
"Now with over 70 people, we want our brand to truly reflect our passion to be an inclusive company and embody our bold desire to scale. Our new name is reflective of who we are today, but one thing remains unchanged which is our passion for enabling IT transformation at the speed of disruption."
What does this mean
Professional Services is a market where the right company can become large very quickly. The BGF investment is coupled with the addition of some significant experience in the form of Hale and the others. DevOpsGroups has won business from some significant brands including ASOS, Admiral Insurance, BAE Systems, Waitrose, DVLA and Vodafone.
It is a big market though and while companies often transform their business processes they sometimes forget the kind of specialist advice requirement to transform the IT department. It is a niche that could see DevOpsGroups succeed in. With the investment and the new board in place they have taken a sensible and significant first step on the road.