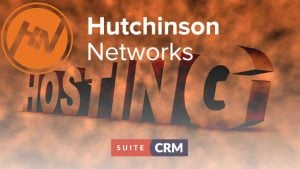 Sales Agility has announced that Hutchinson Networks will become the hosting provider for SuiteCRM. This brings together two expanding Scottish companies to deliver a CRM solution across the globe. The deal is the first major announcement from Hutchinson Networks since they closed a £2.2 million funding round with YFM Equity Partners (YFM). That deal will see Hutchinson Networks almost double their workforce over the coming months as they start a major expansion.
Olga Melnyk, Director of Fabrix at Hutchinson Networks commented: "It is great to work collaboratively with SalesAgility, such a globally respected and innovative CRM development organisation on a solution that's flexible to their needs, scalable as they grow and above all easy for them to manage. SalesAgility is disrupting the traditional CRM market with the open source SuiteCRM and we are pleased to play an important part in their plans to become the most used CRM in the world."
SuiteCRM will deploy on Fabrix, the  cloud application platform Hutchinson Networks launched in 2015. It uses Software Defined Networking (SDN) and Network Functions Virtualization (NFV) to provide a flexible and scalable architecture. The platform uses a combination of technologies from technology partners Cisco, Riverbed, VMware and F5.
Dale Murray, CEO at SalesAgility commented "As a CRM software provider, we require a platform that is secure, resilient and fully managed. Fabrix ticked all the boxes and was the obvious platform choice for our client's needs."
What does this mean
SalesAgility has selected a partner of a similar size that should provide a flexibility for its growing and changing needs. That it has decided not to opt for one of the larger cloud vendors such as AWS or Microsoft is an indication that while SuiteCRM has 4,000,000 users across the globe it does not expect them to suddenly switch to the cloud.
The announcement in combination with SuiteAssured will allow SalesAgility to provide an enterprise class cloud solution to its customers. Selecting a modern hosting partner will re-assure potential customers that it can now provide a reliable and scalable solution.
For Hutchinson Networks this is a significant deal as they look to grow following the funding round. YFM will expect more of the same if they are to realise the returns they expect from the cloud company.