Shyft has signed a Memorandum of Understanding (MOU) with the Government of Bermuda as part of the country's vision to establish Bermuda as place leveraging cryptocurrency and blockchain technology.
A key facet is Bermuda's intent to achieve this within a highly regulated progressive framework with an emphasis on strong Know Your Customer (KYC), Anti-Money Laundering (AML) and compliance.
Recognizing that Bermuda is becoming a pioneer, Shyft has pledged to support local blockchain-based initiatives. It will also build local capacity in the areas of education, job creation and repatriation of Bermuda's international workforce.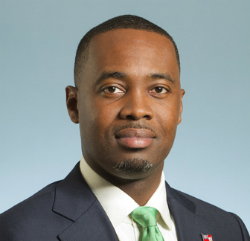 "The Government of Bermuda has decided to lead the way and build interoperability into the government legislation, in essence, approach regulatory frameworks with exportability in mind. This is our Bermuda jurisdiction as a service, the high level of exportability 'stack' that includes technology, regulation, process and protocol that we have built with assistance and commitment of modern companies like Shyft with expertise in handling KYC and Anti Money Laundering (AML) compliance. As a result, the country is able to accelerate economic growth, create jobs and attract global interest," says Bermuda Premier David Burt. "We're leading the world in digital assets regulation, there's no other country that provides comparable certainty and progressive regulatory Environment."
Shyft's MOU highlights
Shyft has pledged three things.
Invest up to $10M USD over three years to create new Bermuda jobs, help re-skill labour, invest in local businesses, education and infrastructure as well as help repatriate skilled labour back into the country.
Collaborate with the Government of Bermuda and all necessary oversight agencies in the development and improvement of a robust legal and regulatory framework.
Support the training of Bermudians, through the Department of Workforce Development, in blockchain technology and software development.
"We're thrilled to announce our investment in Bermuda," says Shyft Chairman Joseph Weinberg.
"Shyft has an ambitious objective of building a global digital identity ecosystem that gives all citizens the opportunity to participate. We have a goal of leveraging new technology to make positive and inclusive change. We have found a similar intent and aspiration with the Government of Bermuda."
Extending this to Trunomi
Shyft has also announced a separate MOU with global data rights company, Trunomi, which was founded in Bermuda. Together, Shyft and Trunomi plan to leverage Shyft's blockchain technology with Trunomi's expertise in consumer consent frameworks to support Bermuda in its vision by implementing an innovative e-ID (electronic ID) framework.
Individuals and enterprises looking to leverage Bermuda's world-class regulatory framework will not be limited by nationality or geography. The e-IDs issued will be globally interoperable, enabling entities to transcend borders and operate globally (This sounds like  the Estonian e-ID and other initiatives.)
"I'm proud to announce that as a result of this partnership and its strong synergies, entrepreneurs, enterprises, and blockchain companies all over the world will be able to leverage Shyft and Trunomi technologies to launch new products and services in Bermuda and globally," says Bruce Silcoff, Shyft International CEO.
About Shyft and Trunomi
Shyft is building a secure, multi-stakeholder blockchain-based digital identity solution that enables KYC/AML attested data transfers. Combining privacy of data with efficiency of attestation, Shyft technology aims to:
streamline and simplify data collection
reduce cost and minimize the cybersecurity risks inherent in traditional compliance systems
make the global economy accessible, by creating credible reputations for the 3.5 billion consumers who lack 'identities (by today's standards).
Trunomi seeks to unlock the power of customer data via consent and data rights management. The Trunomi platform enables businesses to request, record and immutably prove the legal basis for processing personal data and comply with the highest standard in global data privacy laws. For customers it will provide control and transparency over how their personal data is used. The company believes the platform is an enabler of the evolving personal information economy. Trunomi has raised funding in three seed rounds. Investors include Saturn Ventures, Fenway Summer, Fintonia, SenaHill, WorldQuant and CloudScale Capital Partners.
Enterprise Times: what does this mean
Interest in blockchain is becoming global. It is not US or European -centric. China, India and now Bermuda.
It is, perhaps, Estonia which offer the most obvious comparison to this Bermuda with Shyft initiative. Estonia has, relatively a long history with electronic ID. Where Bermuda is likely to score is that it is a recognised financial centre (in a way that Tallinn is not), especially for the insurance and reinsurance industries. If the Bermuda Government, Shyft and Trunomi can move fast enough, Estonia will find it has competition for offering verified electronic identities, for businesses and individuals.