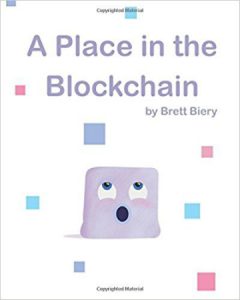 You may have thought that blockchain is complex, even impenetrable – until Blocky arrived. Many would agree that complexity is one of the Achilles Heels of blockchain. But that does not mean the young need to be constrained.
Brett Biery has created Blocky, the character in a slim volume entitled 'A Place in the Blockchain' (available on Amazon) for his two year old. In this children's picture book, Blocky comes of age when he finds his lifelong attachment.
As you might expect of a book aimed at the sub-fives, this is not an intellectual challenge – though the rhyming prose is often as awkward as blockchains themselves. That said, it is a treat to find that blockchains can emerge from the technical twilight into a (very) youthful sun.
A treat for a short weekend.