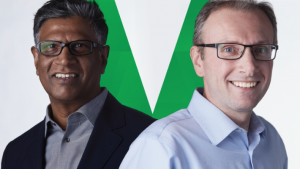 Vena Solutions has announced a change of CEO. Don Mal, Founder and current CEO will step down from his position on 1st June 2018.
Shawn Cadeau will become the new CEO on the same day. Cadeau joined Vena in January 2017 as Chief Revenue Officer, he stepped up to the position of COO in September 2017. This now appears to have been architected as a smooth transition as part of the handover from Don Mal.
Enterprise Times interviewed Mal late last year when he signposted the transition by saying "Our Chief Revenue Officer has now been promoted to COO. So that shift from leading the team as founders to now being more professional, in a sense, of broadening that executive leadership and then scaling over the next 12 months with that new leadership team."
Cadeau speaks up
We had the opportunity to speak to Cadeau prior to the announcement and asked him whether this was part of a strategy. "This is part of an 18 month transition plan that both the board and Don initiated… This is actually part of Don's career plan that he has been living and now is the time for him to step back from the business and it is solely a decision that he made. He will remain a significant shareholder in the company and his optimism and belief in Vena moving forward couldn't be stronger."
Mal will still retain a role as ambassador and advisor to Vena Solutions but having seen the progress that Cadeau has made over the last year clearly feels he is stepping away and leaving it in good hands. Over the last year Vena Solutions has continued to grow. Mal commented: "Shawn has proven himself as the obvious choice to lead Vena moving forward, consistently driving industry-leading customer satisfaction, exceeding growth targets and bringing a culture of operational excellence to the departments he led as CRO and COO. I look forward to supporting him in his role as CEO, and seeing Vena continue its growth as an innovative industry leader."
It is never an easy decision to make for a Founder, stepping away and letting someone else pick up the reins. However, as companies grow they often need a different style of leadership and one with more experience in leading the next phase of growth. Cadeau has good credentials, he spent 4 years at Freshbooks as CMO and before that had senior roles at Corel Corporation and Adobe.
What next for Vena
It is clear that the Board and Mal challenged Cadeau over the last 18 months. His input has helped Vena solutions achieve 100% annual recurring revenue growth over the previous year. Vena has also brought in a new leadership team over that time, we asked Cadeau if the team was complete. He replied: "We are actively recruiting a CRO and we are in the process of that right now. Over last 16-18 months we brought on a new chief people officer, a chief customer officer, myself and we have also brought on some experienced VP levels both on the Customer experience side and on the operational side."
Cadeau outlined three areas of focus for Vena to achieve even more growth. Cadeau will continue to focus on a world class customer experience. According to Cadeau, Forrester, Nucleus and BPM partners rate Vena the number one CPM solution. It will also invest in its product to maintain its best in class label. Finally Cadeau acknowledged that Vena needs to make internal changes as well. He commented:
"Finally, we have to put a lot of systems and process and scalability in place. It is a big part of our strategy. Individual people and heroics works great when you are a startup. We are a much bigger company now, we are well over 200 employees and systemetising a lot of what we do from training and operations to data and, analytics are a big part of this. We are using Vena across our own company to drive analytics based decisions."
..and success ?
Cadeau has a clear vision for Vena. To grow revenues from both existing customers as they extend their use of Vena and also from new customers. With more than 400 customers already, his first objective is 1,000. This is more of a stepping stone and one which he hopes to achieve within the next two years. Cadeau added that these KPI's are "all driven by customer satisfaction and putting the customer at the front of everything we are doing."
Why Cadeau
Without Don Mal available for comment we asked Cadeau why he was selected. "As part of the vetting and interview process that I went through it was very important to the Founders to have someone come on board in the leadership capacity and the CEO role that I am transitioning into with the right kind of values. Someone who lived the Vena values. It is a hard working driven culture, but it is also team work based and collaborative. It is a company that makes decisions and moved things forward. Secondary to the cultural aspect is the experience and track record from the part as well as global experience."
Cadeau is another Canadian. He has experience of working in US companies though. We asked him what the difference between high growth companies in the two nations were. He replied: "Canadians tend to be a little more conservative in the risk they take risks but they are no less passionate. People at Vena are incredibly talented and incredibly passionate."
The 19 months process and his selection reflects his comment. Mal and the board knew they wanted a transition. However, they also wanted to make sure they had got the right man. It is a sensible approach and one that others could should adopt, especially when transitioning from Founder CEO to a new leader.
What does this mean
The decision for Don Mal to step down is almost certainly the right one. He has succeeded in growing the company to 200 staff and 400 customers, a phenomenal achievement for a startup. However, he also recognised that to grow further the company needed the systems and process in place. Without them Vena would start to creak from an operational point of view. It is not an easy transition to mid-size company from a startup. Cadeau seems to have already started the process and has the experience to deliver the changes necessary. It should mean that Vena continues to grow successfully.
Cadeau's global experience is very relevant. Enterprise Times spoke to Cadeau last week at SuiteWorld about the recent partnership with Sage Intacct and their international growth.