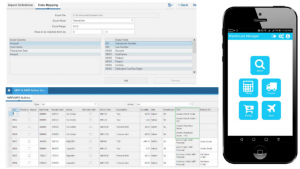 Epicor has announced the latest version of iScala. IScala 3.2 delivers several improvements over the previous version. These include improvements to user experience and functional improvements to Finance Management, Project Management, Payroll, Warehouse, and Materials Management. There is also greater support for internationalisation as well as new` features to support GDPR.
The user experience improvements enable users to run multiple windows in a single session. This enables them to switch between tasks, useful for small finance departments who may carry out several functions. It allows users to minimise and resize recently used forms enabling other forms to be quickly found.
Two new mobile applications
iScala introduces two new Mobile Apps and improves the functionality of the Mobile Warehouse Manager that was released with iScala 3.1. All three are available on both Android and iOS devices.
The new Apps are Mobile Sales Order Manager and iScala Requisition Approval app. The first enables users to create and manage existing sales orders, updating information without the need to access a desktop. The second allows key users to authorise requisitions whilst away from the office.
Functional Improvements
Generic: A new import wizard for Excel streamlines the process of importing data into various modules include finance, services management and project management
Finance: Partial processing in journals is now permitted. Incorrect postings are highlighted and an email sent to the user for correction. Epicor has also introduced greater flexibility for exchange rates. Users can define a sales order as having a fixed rate or determine which rate is used for the transaction. To ensure no mismatch, the rates are stored in the header data of each invoice, so are accurate for the life of the invoice, notably when payments are made. In addition, it is now possible to split payments to bank accounts. This allows VAT, for example, to go to its own account.
For international organisations Epicor has also improved the localisations for Portugal and France. The Portuguese SAF-T support is updated to reflect recent changes and the French Fichier des écritures comptables (FEC) report is now compliant. Epicor has also expanded parameters available for SEPA CRT for European organisations.
Payroll: It is now possible to add custom fields in the advanced payroll application. There are also additional reports available. These include a company tree structure report, user group access right report, security matrix report on employee positions, and detailed report of existing reports with security roles.
Material planning control:
For manufacturing companies Epicor has improved the Material Planning Control (MPC) basic data operations. It now allows users to update operations lists for different items. Users can recalculate the cost of parent items and the standard cost for part-off items. The action screen now shows recently release works orders, purchase orders and requisitions.
iScala is also easier to integrate with specialist forecasting systems. Though the customer notes and press release fall short of saying what integrations are now possible. Users are able to create, import or export forecasts with the new MPC Forecast In and MPC Forecast Out managers.
Other improvements
There are some improvements to project management specifically around the ability to import spreadsheets using the wizard supporting different project detail levels. Support includes detail around sub-projects, activities, transactions, and invoicing plan.
The currency rate functionality mentioned above is extended into other areas such as sales and procurement. Exchange rates can be locked into transactions whenever a company requires.
Have they met the threat of GDPR?
Most software companies are finally waking up and delivering their GDPR compliance functionality. For Epicor, iScala 3.2 introduces some functionality specific targeting for that regulation. There is greater control over which users have access to the data. At the heart of this is a new permissions structure. Enhanced permissions restrict users to the information they are able to see as well as by menu item. There is also additional reporting available creating an effective permissions report.
Administrators can also mark customer records as inactive and/or anonymised, this will prevent their use on a sales order. This does not seem to go far enough though. There is no right to forget nor any search across the database. It also isn't clear what anonymised actually means, or how it is achieved.
What does this mean
With this update Epicor has introduced iterative improvements rather than anything significant.  The two new mobile apps are welcome additions but they are point solutions for specific individuals within an organisation. While the improvements aimed at GDPR are welcome they don't seem to have gone far enough, compared with what other ERP vendors have done, for example IFS.
However, Epicor are continuing to invest in iScala as it clearly believes that it has a future. With Epicor insights in a few weeks it will be interesting to see what the product roadmap further into the future is.