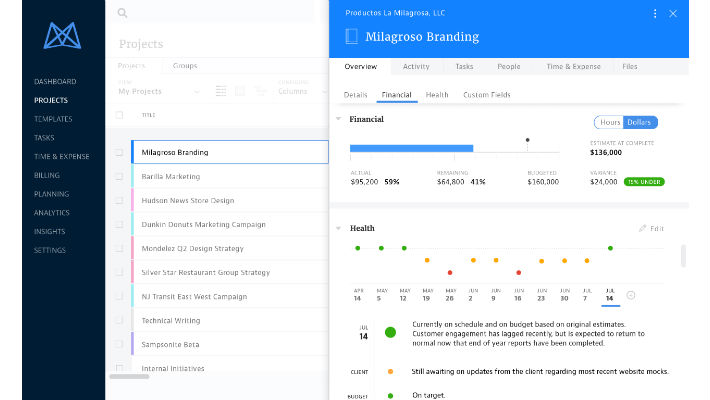 Mavenlink has unveiled the latest improvements to its PSA software. The core of this update are some significant improvements for project managers and business leaders to view the health of their ongoing projects.
This is not merely about producing new reports. It adds intuitive dashboards and visual displays allowing Mavenlink users to quickly understand how their projects are performing across key metrics. The new features are Project Pulse, Project Health reports and a new Project Health Dashboard.
A picture says a thousand words
Users no longer need to search for the health of their project. In most places where the project name appears, for example: The Dashboard Activity Feed, Time Entries and Expenses, clicking on the project name opens up a side panel, Project Pulse. This displays more information about the project. Mavenlink has added a health tab to the project details and financial tabs that already existed.
The Health tab displays a graph of project health. It takes the last twelve Health status reports and displays them as a scatter chart. Each dot represents the status of an historic health report. That status is either red, amber or green to denote the actual health of the project.
Project Health reports on-demand
A project manager can create a Project Health report at any time. They select the current health status of schedule, scope, budget and client sentiment. They can also enter a text description against each element. If the status changes during the day they can update the daily report to reflect that change.
Only one Health Report is created each day. If there are no changes to a given status they can leave it blank. The assumption is that it will take the most recent update to calculate the overall status. Once complete the Project Pulse graph is updated to reflect the latest health status of the project. This allows other users, viewing the Project Pulse side panel, to rapidly view the current and historic status of the project. They can also quickly view the reasons behind why the current status has been selected.
Alongside the Health tab the Financial Details tab includes information such as burn rates. It also shows margin information such as project budget, remaining budget and estimated cost at completion. A business leader can quickly view the status of each project with only a couple of clicks. Project Pulse is now available for Mavenlink users of Enterprise, Premier, and Professional Plans.
Mavenlink could further improve the solution. The main axis is not scaled by date but merely spaced for each report. The Y axis is currently not used as red dots are merely placed higher than amber and green dots. Mavenlink might consider improving this to display the severity of red, amber or green to give more granularity. Currently if a report has four red status it is mapped at the same level as one with a single red status.
Project Health Dashboard
These Health reports also feed into the new Project Health Dashboard that is now included within Mavenlink Insights. Insights is available to Enterprise users or Premium users for an additional cost. The dashboard provides a single point of access to several reports, these include:
Portfolio Scorecard
Project Health Report
Estimated Revenue and Margin Report
Execution Report
Resources Report
Task Actions Report
Project Time Submitted Report
More importantly it also gives the user a visual display across multiple KPI's of any single project. Within the project detail section the latest Project Health Report statuses are displayed.
These traffic lights are displayed in real time so if a project manager updates the report the status change is reflected immediately. There is a graph that shows the project progress of scheduled and actual hours allocated to a project along with the current numerical values. Users are able to quickly view the dashboard of any project and use the current Health status to signpost issues. This enables them to drill down into the data and make corrective actions.
Within the Health Dashboard and associated report documentation (registration required) Mavenlink highlights that these reports are only as good as the data that is entered. This is critical for any PSA implementation. Dashboards are only as good as the data that feeds into them. Poorly updated Health reports or late filled timesheets can hinder the accuracy of the dashboard.
What does this mean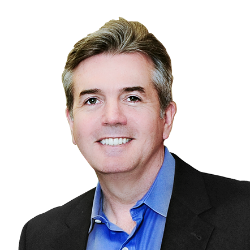 With this update Mavenlink has empowered project managers to deliver snapshot health reports to interested parties across the company. Business Leaders are always pressed for time and optimising this information allows them to they spend their time where it is most needed.
The information is not just available to managers though, a point Ray Grainger, CEO and Founder of Mavenlink makes. He commented: "As the Operational System of Record for the $3 trillion services industry, Mavenlink is uniquely positioned to help our clients understand everything related to the health of their projects. Now with the launch of Project Pulse and the Project Health Dashboard, we are making comprehensive services delivery information even more accessible and easy to leverage. This will help empower every person in a services business — not just management — to make more informed decisions."
Mavenlink is also celebrating its inclusion as a leader in two of G2 Crowds Grids. It is one of only four leaders in the G2 Crowd Grid for Professional Services Automation. The others being Oracle NetSuite OpenAir, Financialforce and Kimble Applications. It was also placed in the leader segment for the G2 Crowd Grid for Project Management. These latest updates should help to ensure its position as it looks to enhance the functionality of its PSA solution. It follows the release of full-cycle resource management last month to strengthen its resource planning functionality.