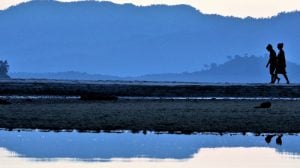 Qtum Foundation Pte has announced that Energo Foundation Pte has implemented the Qtum blockchain platform in its latest cooperation with First Gen, the largest producer of clean energy in the Philippines. This applies to First Gen's blockchain micro-grid project.
First Gen is one of the biggest producers of clean energy in the Philippines. It recently co-hosted a 'blockchain + new energy Workshop' with De La Salle University in Manila, Philippines, making its the first micro-grid project of its kind.
"Through combining the decentralization of blockchain with solar cells, energy storage and other hardware, we hope to accelerate the power reform in off-grid areas and devote itself towards making clean electricity more accessible to residents in remote areas in the near future. We are delighted to partner with De La Salle University University on this case and wish to forge more partnerships with leading players in the cleantech industry," says Kaikai Yang, founder and CEO of Energo Lab Foundation.
Energo+Qtum and blockchain
At the core of the Energo initiative is the Qtum blockchain platform. This offers a decentralized system designed for the measurement, registration, transaction, and settlement of clean energy in local micro-grids. Energo has donated a hardware system to De La Salle University which can load 10 kilowatts. This promotes the use of green energy on the campus. The system is expected to save up to 1.2 million Philippine pesos in electricity expenditure over the next 20 years.
As the first application of its kind based on the Qtum chain, Energo counts Clean Energy Access Network (the largest decentralized energy organization in India), Power for All and the Alliance for Rural Electrification as its partners.
On the De La Salle University campus microgrid project, Energo makes use of the decentralization of the blockchain to ensure that:
users between buildings can directly conduct peer-to-peer electricity transactions
the supply and consumption of electricity in each building remains balanced
the smart meter system records a series of transactions and ensures the security of data storage.
Energo+Qtum and the latter's platform
Qtum Foundation is a Singapore-headquartered decision-making body charged with accelerating the development of the Qtum blockchain network and protocol. Qtum's platform utilizes smart contracts through integration of the Ethereum Virtual Machine. To date more than 50 decentralized applications have been deployed on Qtum across a broad spectrum of sectors including:
intellectual property
market forecasts
healthcare
clean energy.
In February Qtum announced its collaboration with the Space Chain Foundation, another decentralized application built on the Qtum chain, to launch a standardized CubeSat. The satellite would carry Qtum's blockchain software technology on a Raspberry Pi device to provide unique advantages for Qtum users. By launching a satellite into space with a comparatively lighter proof-of-stake algorithm, QTUM can increase its reliability with a future satellite network expansion and lower the cost of industrial usage.
Energo Labs integrates blockchain into the energy sector by establishing Decentralized Autonomous Energy (DAE) communities. It connects energy producers of varying capacities and energy consumers of diverse needs which:
increases energy efficiency and reliability
eliminates intermediaries of energy trading
boosts profits of energy producers and retailers
creates values for end users.
In DAE communities, energy is a digital asset that can be traded for several applications: peer-to-peer (P2P), machine-to-machine (M2M), and vehicle-to-micro grid/vehicle-to-grid (V2MG/V2G). Energo envisions to create a truly decentralized autonomous energy community.
What does this mean
Blockchain implementation, for real, is happening (see also Monetago). The evolution from pilots and proofs of concept occurs. A major step forward is on its way.
As Michael Bodson of the Depository Trust & Clearing Corporation said recently (at the DTCC Fintech Conference): "However, as the hype of blockchain has collided with its realities, expectations have become more rational over its ability to achieve the scale and processing power needed for large-scale solutions. For example, I'm sure you all remember the talk not long ago about using blockchain to perform real-time gross settlement. In a small, immature market – maybe. But in the United States – not a chance, at least right now. At DTCC, we seamlessly process 60 million trades each day, and during peak times like we saw last month, we handled as many as 90 million transactions. It would be impossible to do this today using a distributed ledger."
Blockchain 'teenages', but has not yet matured. What is good is that blockchain initiatives are not limited to the so-called 'first world'. There is as much, if not more, practical activity elsewhere, as this Energo+Qtum example demonstrates