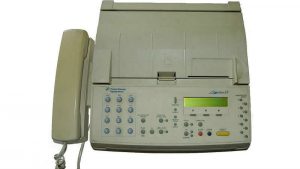 Upland Software has announced the acquisition of InterFAX Communications Ltd for $37 million. This is the first European acquisition that Upland Software has made. Interfax offers a cloud based faxing solution for enterprises and will strengthen the Upland Workflow Automation product line. The deal is expected to close on March 31, 2018.
The deal will see $15 million immediately added to Upland's annual revenue. It has revised its annual targets accordingly. Upland now expects revenue for the full year ending December 21 2018 to be between £131 and $135 million. EBITDA is also adjusted and is expected to be between $46.5 and $48.5 million.
What is InterFAX
InterFAX brings a portfolio of products to Upland for enterprises still reliant on fax. This is not a small number, a recent IDC survey found that in the last year fax 82% of users saw usage increase or stay the same over the last year. For those companies that saw growth it increased by an average of 27%. ReportBuyer issued a report that forecast the fax services market would become more than £2.8 billion by 2022. The two major industries were healthcare and finance.
The InterFAX solution supports both these vertical markets. For healthcare it is Health Insurance Portability and Accountability Act (HIPAA) compliant. For finance it is certified under the Payment Card Industry Data Security Standard (PCI-DSS) as well as the International Organization for Standardization (ISO) 27001 Security Standard.
InterFAX offers the ability for companies to send and receive faxes from email or any other business program. It offers a wide range of API services that allow companies to integrate their software. It has prebuilt integrations with MS Dynamics, Microsoft Office, Google Docs, SAP R/3 and Box.
Jack McDonald, chairman and CEO of Upland Software said: "We are pleased to welcome InterFAX and its valued customers, development community, and partners to Upland. This strategic and accretive acquisition builds on the investments we made in our Workflow Automation product family last year with the additions of Omtool (now branded as Upland product AccuRoute) and Qvidian, and it strengthens our presence in Europe to drive international expansion."
What does this mean
The acquisition includes the InterFAX operations in Dublin, Eire and Israel. The purchase price represents between 5-8x EBITDA and a just over 2x revenue seems a solid buy. The acquisition compliments the Upland Workflow product range but there is a significant overlap with AccuRoute. The deal will however bring in a client base that Upland will look to expand its revenue share of with other products and in doing so drive up the profitability.
Sean Nathaniel, CTO and SVP of Workflow Automation Solutions for Upland Software also sees it as an opportunity to migrate other existing customers to cloud based fax. He commented: "InterFAX's secure document distribution and enterprise cloud fax capability allows us to deliver use-case-specific, end-to-end workflow management solutions that meet the industry compliance standards that our customers require. InterFAX technology also enables a smooth migration for customers moving from on-premises fax to a secure, auditable cloud fax and distribution solution."
Importantly this also offers Upland a significant presence in Europe with an office in Dublin. According to LinkedIn it has around 22 employees based in Dublin. Will Upland expand its presence in the region from that office?