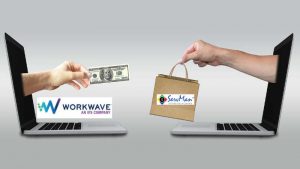 WorkWave has announced the acquisition of Cube Six Inc, the developers of Servman Software. The acquisition accelerates the Workwave presence in the HVAC, Electrical and Plumbing Industries.
Servman was placed in the Masters quadrant of the SoftwareAdvice frontrunners for field service quadrant in November 2017 . Its own software, ServiceCEO is not present within the quadrant. The financial details of the transactions were not announced. Both WorkWave, who were acquired by IFS in October 2017, and Cube Six Inc are privately owned.
Who is Cube Six Inc
Cube Six was founded in 2001 by the same leadership team that brought Servman to market in the mid 1990's. That team included co-founder Rob Webster, President and CEO of Cube Six. The software is designed to power any B2B or B2C service business. It has comprehensive functionality in the core software that includes:
Financial and inventory management
CRM
Payment processing
Contract and warranty management
Field service management
Mobile and Web Portal interface
Comprehensive KPI reporting
In addition to this it is supported by further modules that include an Automated Pre/Post Appointment Assistant, delivering an automated attendant solution for both voice and text. Other add-ons include a mobile offering, payroll, time and attendance, survey module and EDI.
The company has a small list of technology partners such as Avalara and ADP providing integration to leading software vendors in various fields. While the team at Cube Six is less than 50 people, they have a small partner community recently signing up 10x Consulting group as a value added reseller.
Most clients appear to be SME from small startups to larger organisations up to around 100 employees. However, the solution does cater for larger organisations. Clients include Morris Jenkins, Tudi Mechanical, Robin Aire Heating & Cooling Inc and Air Group. Capterra reviewers give it a 4.5 star rating and comments include Jill Talty, CFO Clover Electric, Inc. who said: "Great software for now and as you grow your business. We shouldn't need to hire anyone else!"
Rob Webster, CEO of Cube Six, stated: "We are very excited to join the WorkWave team and looking forward to mutually accelerating our growth in the field service space. Being a part of WorkWave will greatly benefit our clients, partners, and employees going forward."
What does this mean
This is a significant acquisition by WorkWave made possible by the investment by its parent company IFS. This is a powerful move that should see IFS and WorkWave increase its presence in the US market significantly.
Chris Sullens, CEO of WorkWave commented: "We are very excited to welcome Rob Webster and his team to the WorkWave family. They have the broad software capabilities, the industry knowledge, and commitment to customer service that is necessary to help us serve the needs of small to mid-market companies operating in the HVAC, Electrical, and Plumbing markets. This combination will enhance our already robust software capabilities and industry expertise, while accelerating our growth moving forward."
Workwave still operates as an independent business unit to IFS. Cube Six can now leverage both the WorkWave and IFS international experience to expand its footprint. One of the criticisms levelled at Servman is the lack of European localisation. The wider company has the knowledge to easily rectify that issue within the software. It could help the software to expand faster into other regions.