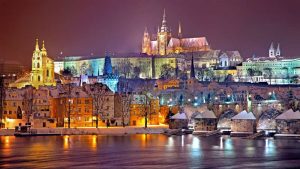 IQMS has announced a new partnership with Efidex Company. The Czech Republic based company sells manufacturing solutions across central Europe.
Efidex has been evolving its strategic partnerships in the last few years. Historically it was a reseller of Yourcegid Manufacturing PMI, provided by the French based Cegid. They appear to have been dropped completely.
Oddly Efidex only mention IQMS as a strategic partner on their about us page, yet the about us section on their home page indicates that both IWMS and Infor are still strategic partners. Infor still lists Efidex as a channel partner.
Efidex was founded in 2013 as a subsidiary of Data Software Brno Ltd. Its frequent change of software partners is surprising. The move aware from Cegid perhaps less so. As the company built up an international customer base it possibly felt that a more international solution would be a better fit.
Benefits to IQMS
For IQMS, Efidex brings a pedigree and experience in the implementation and support of manufacturing ERP solutions. They will provide expertise across both the Czech and Slovak republics.  Jan Kovařík, managing director of EFIDEX Company commented: "We continue to see high gross domestic product growth and extremely low unemployment rates as companies start reaching the limits of the European Union labor market.
"Consequently, there are just a few means of enabling manufacturers to grow—such as automation, the adoption of best practices, and better production planning and management—to increase work efficiency. The opportunity to introduce IQMS to the Czech Republic market is coming at the right time, and we are excited to add IQMS's comprehensive ERP and MES software to our product portfolio. In doing so, we are taking an essential step in filling the gap in functionally-rich information technology offerings available in the Central European region."
Efidex is the only full service global partner in central Europe for IQMS. It will help it penetrate that growing market. The Czech economy is steadily growing with business confidence in the manufacturing sector high.  There has been seven months of constant growth.
PWC sees this as an opportunity for changes in the systems that companies use. On manufacturing and industrial in the Czech Republic they commented: "Currently, the pressure to reduce operating costs with expected revenue growth continues… the search for cost savings in all operational areas, including HR management, and, at the same time, they increase the need for restructuring and reorganising (the company), including new set-up of the systems and processes."
What does this mean
For IQMS this appears to be a very useful signing, enabling them to penetrate central Europe more effectively. Gary Nemmers, president and CEO of IQMS commented: "Empowering manufacturers to succeed requires, not only strong technology skills, but also a comprehensive understanding of local business and government requirements.
"We are thrilled by the addition of EFIDEX Company to the IQMS partner network. The team there brings outstanding expertise in supporting business environments across the Czech Republic and Central Europe. With its deep understanding of the needs faced by local manufacturers and subsidiaries of global enterprises, alike, EFIDEX Company is the ideal partner to expand our efforts in the region."
There are two questions still to answer. Firstly whether Efidex will continue to be an Infor partner? Secondly, can IQMS can forge a relationship that works in the medium and long term? There is a cost to bringing on new partners. Only through successful projects can this new relationship be truly measured.