Epicor has announced the appointment of Colleen Langevin as CMO. This is the latest appointment at Epicor as Steve Murphy, CEO continues to form his executive team at Epicor Software Corporation. Murphy commented: "We are thrilled to have a marketing executive of Colleen's calibre join the leadership team Colleen brings extensive marketing leadership experience coupled with a customer and growth-oriented mindset, and a recognized track record of raising brand profiles."
Langevin is responsible for the global marketing strategy and global marketing organisation at Epicor. This includes: corporate marketing, field marketing, and teleprospecting. This brings Murphy's search for the right team to completion according to the press release.
Steve Murphy, Chief Executive Officer
Ian Ashby, Head of Global Support
Jignasha Grooms, Head of Global Human Resources
Sabby Gill, Head of International Sales
David Mehok, Chief Financial Officer
Himanshu Palsule, Chief Product and Technology Officer
Clarke Pich, Head of Global Professional Services
Lisa Pope, Head of Americas Sales
Scott Thompson, Head of Automotive and Business Services
Colleen Langevin, Chief Marketing Office
It is a balanced mix of Epicor veterans as well as some outsiders who have joined recently. This includes Lisa Pope as well as Colleen Langevin. On his team Murphy commented: "I'm excited about the team and what we can accomplish together—bringing experience in cloud solutions and coming from industry leaders and high-growth companies. With cloud as our fastest growing deployment segment, we are poised to continue to increase speed, efficiency and scale delivering technology solutions that in turn enable our customers to achieve the kind of transformation that fuels growth."
So who is Colleen Langevin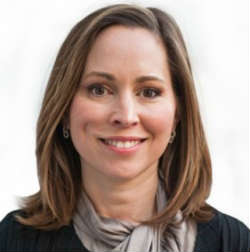 Langevin began her career at Chevrolet as a brand analyst working on the Venture and Malibu product platform. In 1999 she joined Progress Software as Global Marketing Manager, ASP. This may have been her first taste of enterprise software, though there is a gap in her LinkedIn Profile. She then spent ten years at Iron Mountain. While there she worked her way up to SVP Marketing, working on that company's SaaS portfolio.
In 2011 she joined Dell as VP Marketing, Enterprise Solutions Group increasing the awareness of Dell and its credibility in the enterprise market. This is no doubt one of the factors that Murphy found compelling. Epicor has a solid brand but it is sometimes seen as outdated and it does need to refresh itself tell a more compelling story about its cloud credentials. This was lacking at Epicor Insights 2017 and one hopes for a change at the next Epicor Insights 2018 later this year.
She then moved to CLEAResult as Chief Marketing Officer. She was there four and a half years before being tempted away by Murphy. CLEAResult is a leading provider of energy efficiency services, working with utilities, businesses as well as consumers.
On joining Epicor she commented: "I'm thrilled to join Epicor at such a pivotal time for the company, our customers and our industry. From artificial intelligence (AI), big data and blockchain, to Industry 4.0 and the Internet of Things (IoT)—business leaders are striving to identify the digital transformations they can make that will have the biggest impact on enhancing employee and customer experiences and drive growth. And Epicor is leading the way for its customers to leverage the advantages innovative technologies bring."
What does this mean
Murphy is wasting little time in bringing together his team and getting them to execute. The company has recently opened an expanded technical centre in Bengalaru, India and other changes are also occurring. When Insights 2018 begins in Nashville in on May 21st Langevin will have just completed her first 100 days in her new role. The impact of those changes will be interesting to see.