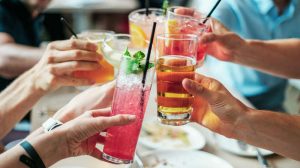 IQMS has announced that the Royer Corporation has selected IQMS integrated ERP and MES (Manufacturing execution system) to enhance its business. Originally founded in 1970 the Royer Corporation has gone through several changes of name and ownership. From 1999 the latest incarnation has grown to become an industry leader in the manufacture and custom decoration of plastic promotional products. These include swizzle sticks and drink stirrers, often branded for leading drinks manufacturers.
The problem of success
However, as the business has grown it has diversified into related areas.  This has increased the complexity of manufacturing processes and its supply chain especially. Its legacy system was unable to keep track and thus the company started to introduce manual workaround to issues that arose. This led to an increasingly inefficient system and the management realised it needed to replace its legacy solution.
One KPI that was defined is to increase the productivity points for each of its products. To do this they realised they need to achieve several objectives with the new solution:
Streamline processes
Track machines and production in real time
Improve capacity planning
Track complex purchasing patterns to improve inventory decision.
Selection process
Royer Corporation carried out a selection process and like the look of IQMS based on its comprehensive functionality. Core to their decision though was the references from other members of The Manufacturer's Association for Plastics Processors, Inc. (MAPP). It will have helped that four IQMS customers won awards last year at the 2017 MAPP Awards. They included Intertech Medical, Wisconsin Plastics, Inc., Nicolet Plastics Inc and Harmony Systems & Service.
Kenton Williams, business development and project manager at Royer Corporation commented: "We liked that IQMS offered user-friendly software designed to support our needs as an injection molder, and we were impressed IQMS's company culture and reputation. Many of our fellow members at MAPP use IQMS, and highly recommended it."
What difference will it make
Royer are able to remove their reliance on spreadsheets. The sales team can focus on selling rather than documenting. The production leaders can spend more time on monitoring machinery in real time than tracking outputs on spreadsheets. Williams added: "IQMS is going to help take Royer to the next level, both in terms of how we attract and serve our customers. The IQMS EnterpriseIQ ERP system will make us a more efficient company, which will positively impact our bottom line, our employees, and our community."
What does this mean
IQMS works closely with MAPP and has a number of its members as customers.  The knowledge that it gains and the trust that it is building in that community is self sustaining. As it wins more customers in the plastic manufacturing community and continues to deliver the kind of service that its customers expect it is a market that others will find hard to break into.
What IQMS need to do next is help identify how many profitability point improvements Royer Corporation has achieved and publish that as a case study.  In doing so it will truly demonstrate that it is making a difference in the industry.