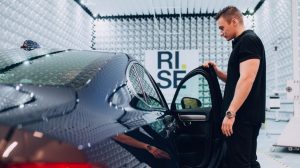 IFS and Novacura have announced a successful joint bid at RISE, The Swedish Research Institute. Novacura, an IFS partner will implement its business process management solution Flow and IFS Applications ERP suite.
It follows an extensive public procurement process by RISE to select a new finance and project management solution. RISE came into being formally as an integration of three institutes in Sweden: Innventia, SP and Swedish ICT.
It changed its name to RISE in 2017. RISE is now structured into six divisions. It has more than 2,200 employees working across around 100 test beds and demonstration facilities in Sweden. It assists Swedish small to medium companies bring products, technologies and services to market. Each year it handles thousands of projects.
Requirements
The new organisation needed a system that could both manage projects and keep control of finances. With several test beds in different locations it was also important that any solution was fully mobile enabled.
Novacura has a long history of working with IFS and has integrated its BPM software with IFS ERP. It has implemented Flow alongside IFS at Anticimex. The new solution will replace several legacy solutions used by the founder institutions. The new integrated solution will be implemented as a fully managed solution. This is important in a dynamic environment where it frequently develops new test centres. One example is Awitar, the Automotive Wireless Test and Research Facility opened on January 10, 2018.
Synnöve Helander, CFO of RISE explained further saying: "With IFS Applications and Novacura Flow we will get a strong finance solution with advanced project capabilities that will unify and support our complex project requirements across our companies and divisions. The user-friendliness and mobile capabilities was also a key factor in awarding IFS and Novacura the contract."
What will they get?
Details of what RISE will implement is unclear. The IFS modules will almost certainly include finance but it is unclear whether if RISE will also take the HCM module (See update below). IFS is often seen as focusing on manufacturing and asset intensive businesses. It also has a strong offering in project businesses, especially when paired with Novacura. Flow is more of a business process management and workflow solution than a project management one. It does the latter through an integration to MIcrosof Projectt management. For RISE it is the ideal partner as RISE can define test processes within Flow and map progress against them.
Johan Melander, CEO of Novacura commented: "We are excited about working with RISE on this complex project. With Novacura Flow, we can support them on their digital journey and help them define and manage their own processes to create real business value faster."
What does this mean

This is a prestigious win for both IFS and Novacura. Novacura will get more exposure to other Swedish businesses as companies use its software during the testing process. IFS gains a customer that is well known in Sweden.
If RISE becomes a strong customer advocate it will also help win further business in Sweden especially. The relationship may also help IFS. It could use RISE to help test new product development although this is not part of the deal.
Glenn Arnesen, CEO of IFS in Scandinavia commented: "IFS Applications offers strong capabilities for project intensive companies and being selected by RISE is a strong testament to our solution as well as our partner Novacura's industry expertise. This is also one of the larger cloud based installations IFS Scandinavia has been a part of to date and we see it as proof that our SaaS offering works very well in complex organizations and processes."