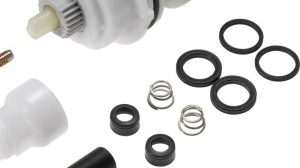 Sterling Consolidated (Sterling ) through its subsidiary Sterling Seal and Supply (Sterling Seal) has engaged New York City-based Blockchain Driven to assist in developing a strategy to support the former's position as a leading supplier of O-rings. These are hydraulic and pneumatic seals relevant to the automotive and industrial marketplace. The objective is to deliver a decentralized international marketplace for O-rings (DIMO).
"We believe that, based on its highly fragmented structure with thousands of distributors and very few suppliers in Asia, the O-ring industry lends itself perfectly to utilization of the Blockchain and smart contract technology," said Darren DeRosa, Sterling's CEO.
"Our goal is to solve a problem for the entire O-ring industry and bring a new technology to a mature industry. Currently there are very high inventory carrying costs, and international suppliers require up-front payments on purchases which take months to deliver. Both of these factors put great stress on the cash flow of the average O-ring distributor. With DiMO we believe we can reduce financing costs and inventory carrying costs for the distributor and create better and faster service for O-ring customers."
Sterling Seal and O-rings
Sterling Seal is a distributor of O-rings. O-rings are one of the simplest, yet most engineered, precise and useful of seal designs. They are also one of the most common and important elements of hydraulic and pneumatic machines.
O-rings are used in a wide variety of industries, including automotive, pump, transmissions, oil and energy, machinery and packaging. O-rings are primarily seals to prevent leakage of liquids or a gas. Sterling offers a catalogue of standard sizes and will take orders for special sizes not available in its catalogue.
In order to satisfy customer needs and stay competitive, Sterling Seal maintains a wide variety of products in substantial quantities. It holds these at its main warehouse in Neptune, New Jersey, as well as at its other facilities in Florida and Massachusetts.
Sterling and Blockchain Driven
Sterling is partnering with blockchain tech agency, Blockchain Driven to lead the integration efforts. "We consider that BlockchainDriven is the leader in the Blockchain space," said DeRosa. "Their (sic) team will help take our strategic goals and integrate them on the Blockchain, utilizing the latest industry research and technology."
By leveraging its existing logistical expertise, Sterlng Seal intends to be an active and strategic consolidator of small- and mid-sized businesses within the highly-fragmented, multi-billion dollar seal industry. With many international distributors of O-rings, but only a few suppliers in Asia, there are currently high inventory carrying costs, and long delivery times. By using blockchain the company seeks to:
reduce both financing and inventory carrying costs
create better, faster service to their customers.
Blockchain Driven will apply its experience with blockchains and with smart contract technology. These will add function and visibility to the Sterling Seal's DIMO vision.
What does it mean
Sterling Seal has functioned for 40 years. Long established it recognizes there are attractions if it can implement a decentralized international marketplace for O-rings using blockchain and smart contracts.
This initiative looks far forward. Though not unique (think aircraft spare parts) it is still comparatively rare in the engineering sector. There will be many more such initiatives as enterprises understand issues that blockchains can resolve or improve.