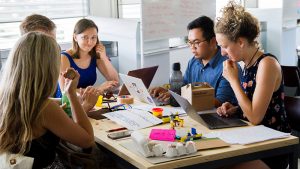 Mike Cherry, Chairman, Federation of Small Business (FSB) has published his New Year message. He has called on the UK Government to deal with late payments, poor broadband, bank branch closures and tax issues. Cherry also calls out the risks that Brexit poses for many small businesses.
In his message Cherry says: "Small businesses are the backbone of our economy and need to be supported and nurtured." According to the FSB website, there are more than 5.7 million small businesses in the UK representing over 99% of UK firms. The number has grown at just under 200,000 per year for the last two years. Leading the charge is the rise in self-employed: their numbers increased by 155,000 in 2016.
Beyond these figures, small business in the UK :
account for 60% of private sector employment
deliver more than £1.9 trillion to the UK economy.
Any financial shock to the sector must impact the UK Government's growth targets. It may increase unemployment.
Late payments and bank closures
In the message, Cherry picks on several themes that cause problems for small businesses. The most persistent of these is late payment.
He asks for the newly appointment Small Business Commissioner, Paul Uppal, to address what he calls: "supply chain bullying." Cherry also says: "This is a crunch year for the Commissioner and his team to make a real difference to firms impacted by the huge £18bn held up in poor and late payments."
Compounding the financial problems for small businesses are two other key issues that Cherry targets, bank branch closures and taxation. The former is a major problem for all small businesses. Banks are reducing the number of branches and managers. This makes it all but impossible for many to have any face-to-face contact with their bank. The effect is that small businesses have no-one regularly to talk to when it comes to business advice and their banking needs.
Accounting vendor Xero believes that a solution is for accountants to step into this space. Cherry, however, wants more than shifting the emphasis to accountants. He believes banks have a duty of care to their business customers. If bank closures leave small businesses without a trusted bank advisor then they are failing in that duty. (ET comment: Cherry may be optimistic in believing that banks even possesses competent small business-oriented advisors.)
This problem is also being exacerbated by Link, the company that runs the cash machine network. Like major banks, it seeks cost reduction which means shrinking the free cash machine network. Some shops are installing ATM – but these charge a fee which can be as much as 1.5% of the cash withdrawn.
FSB wants more action on rates and NICs
Taxation, unsurprisingly, comes in for a mention. The recent problem with massive rate increases on the High Street is causing problems. With many town centres already having lots of empty properties, the recent rate hike is expected to force more small shops to close. The FSB will be pressuring councils over emergency rate relief.
However, not everything is gloom and doom. Cherry said: "Earlier this year, we welcomed the end of the staircase tax in England and Wales, which heaped misery on thousands of small businesses that occupy split level workspaces."
Last year also saw the FSB campaign successfully about National Insurance Contributions. This has been a win for the rising tide of self-employed. For Gig Economy workers who are self-employed but still earning very little, this was a boost. According to Cherry: "Looking back at 2017, we finally got a firm commitment from the Chancellor to abolish Class II National Insurance contributions from next year.
"In cash terms, that will save our members who are self-employed £148 a year each. In March 2017 we also successfully blocked a hike in Class IV National Insurance Contributions, which would have hit millions of self-employed people in the pocket."
Broadband: an ongoing pain point
Cherry also calls out the poor state of broadband which is not just a rural issue. The UK is ranked 31st in a Worldwide Broadband Speed League  unveiled last year. It gives the UK average broadband speed as 16.51Mbps. Yet, for many businesses this is still far more than they obtain.
There are a number of people trying to solve the problem. One of these is Broadband for the Rural North Ltd (B4RN). It has built itsown fibre-optic network to serve rural communities. This is only happening because the often promised roll-out of broadband to rural areas by BT and other large providers has failed to materialise.
Cherry makes the point that: "Poor broadband connections in some areas of the country still continue, making access to online banking very difficult for some, as well as hampering digital skills within businesses. With so many businesses waiting for access to decent broadband to be able to compete and grow, it's vital progress is made without delay, particularly now the Universal Service Obligation is to be rolled out."
The need for reliable broadband is more than just about surfing the net. The UK Government Making Tax Digital project means more and more has to be filed online. Income tax & NI obligations will start in April 2018, VAT from April 2019 and Corporation tax from April 2020. Without a decent broadband service small businesses will not only fail to meet government demands but will miss out on many new services.
What does this mean?
The FSB has set out its stall for 2018. It's calls to the UK Government will resonate well within the community it represents. How much difference it will make at a UK Government level is yet to be seen. Unless it can get Uppal to legislate to force more timely payments it's hard to see how the FSB's will oblige change. For example, small businesses are loathe to take a customer to court, especially a large customer; they know it will almost certainly be the end of that business relationship.
Broadband is a similar challenge. There are many initiatives focused on small areas. What isn't available is the money to help these evolve into larger businesses or serve wider communities. Will the Universal Services Obligation make any difference? Not in the short term, and there is the problem. With Brexit approaching fast, UK businesses need to start adapting their business models. If they cannot access reliable Internet it's hard to build a global customer base to satisfy 'global Britain' aspirations.
Missing from the FSB's message is help for small businesses with GDPR – which arrives at the end of May. Many small businesses lack proper processes to deal with customer data. They are likely to be heavily hit by the legislation. The FSB and other organisations in this space must step in to support small businesses to understand the implications of this legislation.
The next two years are will be tough for the UK's small business community. While the FSB is on target with its New Year message, it must up its own game if it is to help small businesses survive the turmoil ahead.