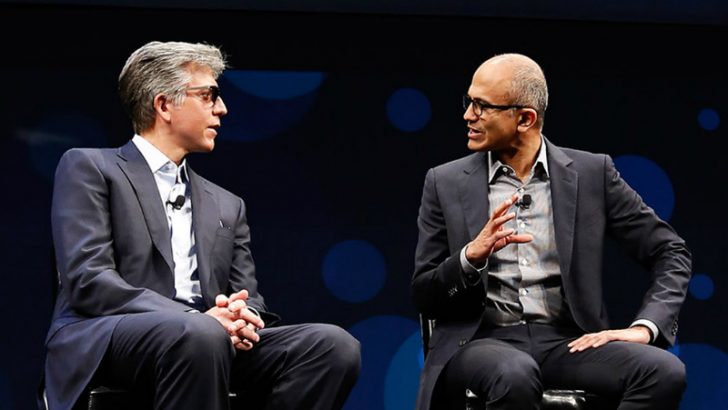 Microsoft and SAP have announced an expansion to their partnership.  There are several components of the announcement that will see the companies go to market jointly. There are four components to the extended agreement:
Microsoft will deploy S/4HANA to run its internal finance operation.
SAP will move its key internal systems to Microsoft Azure.
The companies will co-engineer, market and support cloud solutions for customers
SAP Ariba is already hosted on Azure and SAP will look to extend the use of Azure for its procurement solutions. The details of that component were not explained.
Microsoft to use SAP S/4HANA
The news that Microsoft will utilise S/4HANA is intriguing as it means that Microsoft does not believe that Dynamics will scale to support the Microsoft operation. In a scathing article on erpsoftwareblog.com the author inferred that internally Microsoft had to use SAP because changing it would be too risky. It seems that now there is more to SAP that the Dynamics team might like to admit. Changing to SAP S/4HANA is a migration and one wonders why Microsoft didn't take the time to reconsider Dynamics at this point. It may just be that a deeper relationship was what Nadella wanted.
This is the next stage of a partnership that saw SAP HANA deployed on Azure in 2016. With SAP's flagship ERP now being deployed there will be several customers looking to take advantage. Barry Simpson, senior vice president and chief information officer at The Coca-Cola Company commented: "The strategic partnership announced between Microsoft and SAP is an extremely important development for the Coca-Cola System. The value of aligned engineering, sales and delivery between these two strategic partners will allow our system to accelerate our digital agenda. This is a very positive and exciting development for us."
In fact both SAP and Microsoft will use an instance of S/4HANA on Azure. The S/4HANA instance supporting Concur is one of the instances that will run within Azure. It is not clear however what any others are.
What next for Microsoft and SAP
Microsoft is also looking to integrate its Azure AI and analytics services into its S/4HANA instance. It will be interesting to see whether this becomes commercially available. Additionally whether SAP themselves look to co-market the solution with S/4HANA.
What SAP and Microsoft go to market jointly with isn't clear, but the two companies have a lot of synergies. Satya Nadella, CEO of Microsoft commented: "As technology transforms every business and every industry, organizations are looking for the right platforms and trusted partners to help accelerate their digital transformation. Building on our longtime partnership, Microsoft and SAP are harnessing each other's products to not only power our own organizations, but to empower our enterprise customers to run their most mission-critical applications and workloads with SAP S/4HANA on Azure."
What does this mean
Both SAP and Microsoft over the last few years have made the most of partnerships. They have not all worked out in the way both companies hoped. The proof of success is not merely in the welcome messages by existing customers. After all, they will enjoy the synergies without perhaps paying any additional money. What really counts is whether SAP and Microsoft can lure additional business onto their platforms from competitors, such as Oracle and AWS.
SAP CEO Bill McDermott commented: "We are taking our partnership to the next level with this new capability to run SAP S/4HANA in the Microsoft Azure environment. The world's significant businesses trust Microsoft and SAP. Together, we will help companies win the customer-driven growth revolution."
So what next for these two giants in the industry? There has been recent speculation about whom Microsoft will look to buy in 2018 with Twilio, Workday and ServiceNow all were named. The later two are priced around the $20-25 billion mark. But would SAP whose Market cap of $119.19 billion be too much of a stretch for Microsoft? Microsoft is five times as big though. The regulators might throw up some questions over such an acquisition and Oracle might also have some objections. It is probably a step too far, but as an outside bet for 2018?