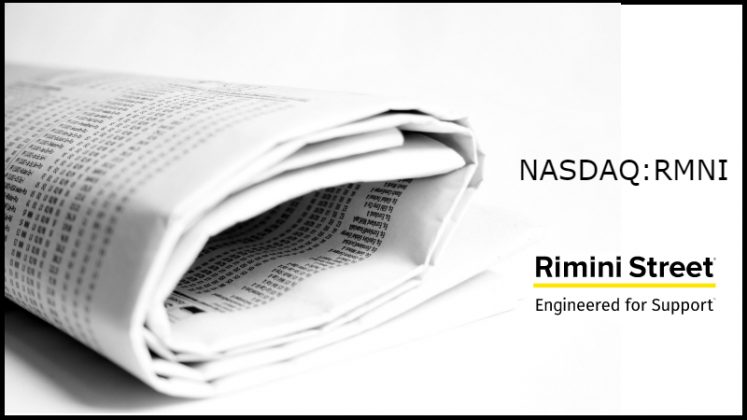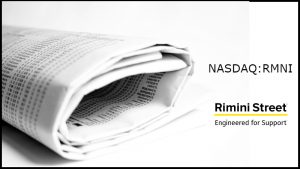 Rimini Street announced its first set of results since the completion of its merger with GPIAC. That has led to its listing on NASDAQ. It has continued its upward trajectory on both revenues and growth this quarter, the 47th consecutive quarter of revenue growth.
Quarterly revenue was up 32% year on year at $53.6 million (2016:$40.7m).  Gross profit increased to 62.5%, compared to 57.7% in 2016. Tom Sabol, Rimini Street CFO commented: "Rimini Street achieved significant growth, financial and operating milestones in the third quarter. In addition to solid business execution, the combination of the $50 million equity raise from the recently completed merger with GPIAC, amendment of the Company's financing agreement and transition to a public company structure provides Rimini Street with additional growth capital and financial flexibility to expand service offerings and capabilities in new markets and regions, strengthens our balance sheet, and provides the potential to accelerate our growth by facilitating additional sales opportunities."
The future looks good for Rimini Street
Rimini Street has continued to grow its customer base and won clients from both SAP and Oracle in recent months. It has made less announcements about its database support product. However, it has delivered more information than previously. It revealed that its revenue retention rate was 94.5% for the trailing 12-months ended September 30, 2017. This is a key metric and indicates that it not only wins customers, but retains them. What it didn't reveal was why it lost the 5.5%. This could be down to replacement projects and it will be interesting to see if the figure goes down and why those customers who left did so.
The number of active clients increased by 34% from 1,085 on September 30, 2016 to 1,459 a year later. Annualised subscription revenue was also up 32% from $162.9 million to $214.4 million for the quarter. Full year revenue guidance was put in the range of $204 million to $210 million. The news did not seem to surprise the markets and the share dropped marginally by 0.54% to $9.22 by the close.
Looking back a little
Rimini Street has also had a busy quarter. It started a French subsidiary in October, opening a new office. It also opened a new office in Sao Paolo, Brazil as it cemented its presence in that region. There were also significant wins in Australia with Open Universities Australia (Oracle) , Saison Information Systems in Japan (SAP) and Superior Uniform Group in the US (SAP). The geographic breadth of Rimini Street is wide. It closed more than 6,000 support cases across 48 countries this quarter.
What does this mean
Rimini Street's growth seems no nearer to slowing. However, with Oracle and SAP getting their act together on cloud solutions there is a window of opportunity. These results are good, but there is little information about the other products/services that they deliver to clients. It will be interesting to see how open they become.