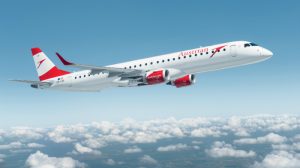 Salesforce has revealed more details about the Salesforce deployment at Embraer. Embraer has embraced a multi cloud strategy for its IT solutions. Historically the Brazilian aircraft manufacturer, the third largest in the world, used SAP as its core solution. It still relies on SAP ERP for its main business software but had adopted other cloud solution such as Salesforce and PTC to support its MRO operation.
One of the challenges Embraer had was that the information about its different planes was located in several databases. The company has more than 1,800 global customers, with 5,600 planes in service. It also has a broad range of additional extras that can be fitted or retrofitted to aircraft. This catalogue of components is especially important as aircraft change hands. The purchasing companies often refurbish planes and want to know what the latest options are.
For Embraer it needs to know which customers normally select which components. More importantly, it would want the ability to understand which combinations of products are best suited to a customer so that it can upsell refits.
So what is it using
Embraer has implemented Salesforce Sales Cloud, Service Cloud, Marketing Cloud, Community Cloud, Salesforce Analytics and the Salesforce Platform. It has now centralised information about its commercial aircraft from 80 disparate databases. It can now better understand customer needs across the whole fleet. As new items become available on the catalogue, or upgrades, it can target specific customers who will benefit from them.
Using community cloud customers are now able to take more control. They are able to access the online catalogue and see what options they might wish to add. These include such options as wifi, seating arrangements and interior design.
Johann Bordais, President and CEO, Embraer Services & Support commented: "Predicting the unpredictable is our ultimate mission, as our customers simply do not like surprises with operational interruptions. Salesforce gives us a platform to not only modernize and scale quickly, but to deeply understand our customers and delight them in new ways."
What does this mean
Embraer has embraced the idea of multiple clouds. With SuccessFactors providing HCM and Salesforce, now providing far more than just CRM they are preparing for the future. With market leading cloud solutions in place. It is able to concentrate on developing and innovating the business. Rather than upgrading and developing improvements for their internal software systems. What will be interesting to see is how they develop the Salesforce Analytics capabilities do drive future sales, both to new and existing customers.
Cindy Bolt, SVP, Salesforce Industries, Manufacturing and Consumer Goods added: "The aviation manufacturing industry is one of the driving forces behind global trade and transportation. It's imperative for manufacturers to invest in new and innovative technologies to deliver better experiences to its airline customers and passengers. "Embraer understands the need to adapt and embrace technological change to engage with their customers in smarter ways, and we're excited to be part of their digital transformation journey."