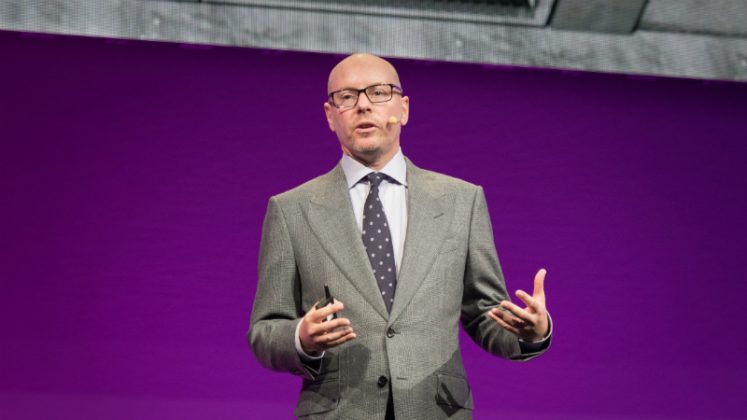 Evan Goldberg, Founder of NetSuite and EVP Development of Oracle NetSuite took to the main stage of Oracle Openworld. He unveiled how NetSuite has evolved under the new ownership of Oracle. Evolved is probably the wrong word, accelerated would be a more accurate description.
Under the strapline of "Next starts now", Netsuite has a simple six step message for its target customers.
Build a great team
Delight customers
Operate efficiently
Create new revenue streams
Find new customers
Be ready for anything
With the addition of their HCM application SuitePeople they have completed the core components of an ERP solution. So what has happened since SuiteWorld 2017? There has been little news from NetSuite about progress. However, Goldberg made it clear that the duck has been paddling furiously to move the products forward. He highlighted four areas that have accelerated "More industries, more countries, more products and more success."
More Industries
NetSuite now focuses on seven core industries. These are software, services, agencies, non-profit, wholesale distribution, manufacturing and retail. It has built these out with specific functionality with things like cash drawer management for retail. NetSuite is continuing to work on both vertical and micro vertical functionality such as retail Apparel as functionality that is applicable to several verticals. It is also looking to its partners to deliver new micro vertical functionality.
According to Gary Wiessinger, EVP, Products at NetSuite it also support partners creating horizontal applications for the product. This includes companies such as iCharts that enable product data visualisation. This does not rule out the chance that NetSuite will also develop such applications but it can delay development and when they do they keep partners informed according to Wiessinger.
NetSuite also operates in several other verticals including health, education, energy and financial services.  They support these with standard functionality and will add new functionality over time.
These choices enable NetSuite to focus on what it sees as core functionality. Despite the investment from Oracle it cannot achieve everything at once, and it is wise not to try.
More Countries
Since the acquisition, NetSuite has worked towards localisation in 22 more countries. It now supports 30 different countries. Some of these are live already like the Netherlands and others are not yet complete. This includes locations as diverse as Chile, Columbia and Brazil in South America, several in Europe including Germany and the Nordics and in Asia, India, Japan and China.
Localisation includes such things as currency, language and tax compliance.  It means that NetSuite will be able to compete effectively with local ERP solutions. Wiessinger explained that NetSuite has two levels of localisation. The first is complete in many countries and allows the subsidiaries of multi national countries to run NetSuite. The second deals with companies who are headquartered in a country. Wiessinger used the term locally competitive, indicating that the software should be able to compete with local ERP software. One target market is Germany where there are over 400 local ERP applications. None however have the breadth and depth or internationalisation that NetSuite can offer.
With Oracle's backing they are now able to expand faster into more countries than they could with their initial cautious roll out. While they had the capability to localise NetSuite they did not have the resources to open up offices to sell the software. That has now changed.
One omission from the list is Africa. Interestingly, localisation is already complete in South Africa courtesy of a partner. It will be interesting to see if any VARs take up the opportunity to localise  it for other countries.
New products
At OpenWorld Goldberg announced two new products on stage. The first was blockchain as a service. Like Oracle they are making the capability available to partners and customers to build their own blockchain solutions using API's. Talking to Goldberg after the keynote he believes that there is an opportunity for partners to pick up the mantle and develop applications that use blockchain.
The second announcement sees the introduction of Oracle NetSuite Planning and Budgeting Cloud Service (PBCS). This product is a cut down version of the Oracle Cloud financial planning offering. It is the next generation of the Hyperion product and developed by the same team to integrate into NetSuite. For customers who need an even more sophisticated FP&A product they will soon be able to leverage the full Oracle product.
SuitePeople, the NetSuite HCM product, also became generally available this week. The solution is integrated across networks and will be especially useful for professional services firms using OpenAir or SRP. There were also several product improvements announced across the NetSuite applications portfolio
More Success
SuiteSuccess has also been expanded with three more editions for non-profit and services organisations. SuiteSuccess is a four stage approach to the 'in life' experience of customers. The stages are: build, engage, optimise and consume. With the product barely a year old and just going into general availability, only a few of the beta customers are approaching a renewal phase. This is important as SuiteSuccess is not just about using and implementing best practices to help speed up implementation and adoption. It also aims to ensure that customers reinvest in their solution each year, taking advantage of new features or improving the value of existing ones.
The initial statistics that Goldberg announced on stage were impressive. Go lives are 60% faster with SuiteSuccess. The actual timescales were not announced or whether they are meeting the 100 days that was spoken about earlier. Implementation costs are coming in 18% lower.
However, it was the last two statistics that were most impressive. Ninety per cent of customers are referenceable on day one from launch. In addition, only 3% of customers, (out of 360) issued any change orders during implementation when using SuiteSuccess. Coupled with a 97% retention rate NetSuite is clearly doing things, better, faster and keeping their existing customers.
What does this mean
These were the announcements that people have waited for. In the five months since SuiteWorld, NetSuite has delivered substantial progress in terms of its products and implementations. Possibly more importantly both Jim McGeever and Evan Goldberg have pledged that they will stay at NetSuite. There was concern that they might leave the company following the acquisition. Goldberg, whom Enterprise Times spoke to confirmed that they would be staying for a substantial time. This is good news for partners and customers alike as it means the Oracle acquisition will only bring more good things for NetSuite.