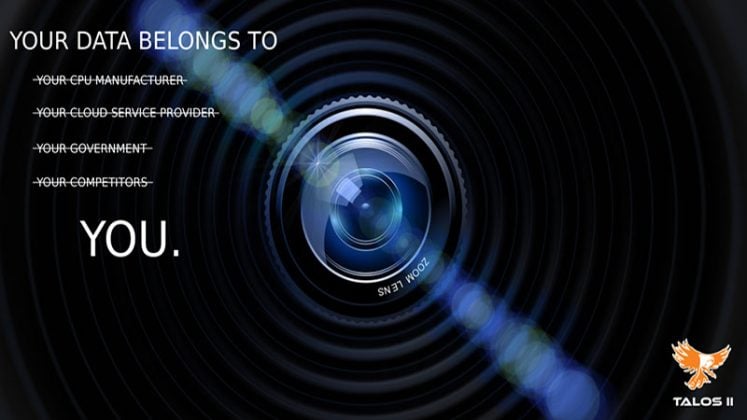 Raptor Computing Systems has announced the Talos II POWER9-based computer. It is the first computer based on the IBM POWER9 processor to be available for pre order. With IBM yet to announce the release date for the POWER9 this is a bold move by Raptor.
This is not Raptor's first Power Systems solution. In December they tried to crowdsource a POWER8 motherboard project. Although that failed, the company has a long history with IBM and is back with a complete POWER9 solution this time.
What is the Talos II?
There are four different options for the Talos II which can then be extended later. They are:
Talos II Secure Workstation: This is a complete dual POWER9 CPU, SMT4 system. It has 16 DDR4 ECC RAM slots and comes with 32GM RAM as standard. There are 5 PCI 4.0 slots and AMD Radeon Pro WX 7100 graphics. The price is $6,750 and that also includes 500GB Samsung NVMe Flash storage
Talos II Rack Mount Development Platform: This is similar to the Secure Workstation except it ships as a rackmount system. There is no AMD Radeon graphics installed but it does come with 64GB RAM and an 3 LSI 9300-8i 8-port internal SAS 3.0 HBA. This means it can support up to 24 drives. The price is $7,800.
Basic Talos II Bundle (Single CPU): This bundle consists of a motherboard and a single POWER9 CPU. The price is $2,300.
Basic Talos II Bundle (Dual CPU): This bundle consists of a motherboard and two POWER9 CPUs. The price is $2,750.
Who is the Talos II aimed at?
Raptor is targeting customers who want the ability to audit everything that happens inside their systems. This is why they have stripped the motherboard and system down to the essentials. Many of their customers deal with highly sensitive data and they want complete visibility over the hardware and software.
To achieve this Raptor will only ship components with open source drivers. Enterprise Times spoke to Timothy Pearson, Senior Electrical Engineer, Raptor computing when they announced the Power8 crowdsourcing project. He explained why open source was so important to the Raptor customer base.
"There is a concern that x86 is becoming increasingly locked down. Functionality is going into proprietary software. [We are] used to having Linux kernel as the lowest level of stack. AMD and Intel are taking control away from the kernel, shoving it into black boxes and then signing them. That means we cannot get into them. We cannot audit, modify and secure them. Both of the major x86 vendors are doing this making Power an interesting alternative."
Pearson continued: "IBM is doing the exact opposite to AMD and Intel. The designs are open and that allows us to get in there and audit the firmware. Let the firmware be a hypervisor in its own right but it must stay open."
No NVidia graphics card?
IBM Power Systems aficionados will notice that there are no NVidia graphics options. This is deliberate. NVidia has locked down its code and has no open source driver for its Tesla CPU cards. As a result, Raptor has decided not to offer them. What is interesting is that they are providing the AMD graphics. This is because there is now a driver that customers can access and modify.
What does this mean?
Raptor is no stranger to being disruptive. It has a very particular customer base and it builds systems to match their needs. To do that they have to be able to give customers the ability to deeply audit their systems and that means all the components and drivers.
By announcing their POWER9 plans before IBM has announced the release date of the chip is a big move. Raptor is a member of the OpenPOWER Foundation and this means they have access to all of the POWER9 data and specifications. What remains to be seen is how quickly IBM will deliver chips to Raptor ahead of larger OpenPOWER foundation members.
Among those members is Supermicro. It is the main hardware provider to IBM SoftLayer and is expected to announce its POWER9 servers soon. Those servers are likely to be available at launch for SoftLayer customers.
Raptor has stolen the thunder from other POWER9 server manufacturers. The question is, can it now capitalise on that and really get to market first?