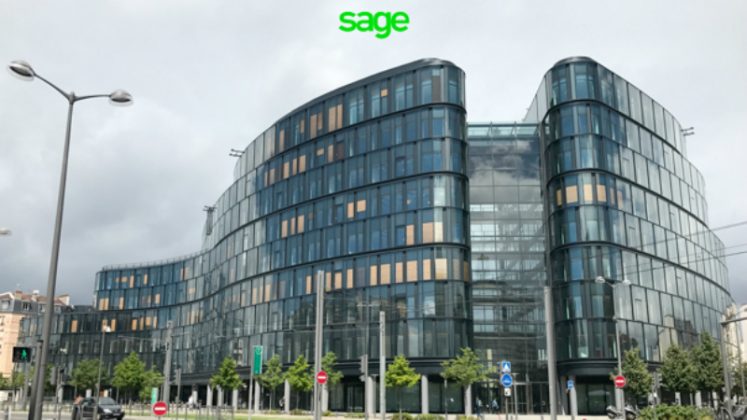 Sage has announced the occupancy of its new headquarters in La Garenne-Colombe in the north west of Paris. The newly completed building attained several ecological standards and is extremely efficient. These include BBC Effinergie, NF and BREEAM. The building was designed by Sir Norman Foster, the British architect who also designed the Gherkin (30 St Mary Axe).  The building has six floors and is pictued above.
Supporting staff and start-ups
Inside the concrete and glass building, it is laid out for the 600 staff to work collaboratively with flexible work spaces that will meet current and future requirements. There is also an area set aside for the incubation of start-up enterprises. It will be interesting to see when Sage opens up a competition for start-ups to move into their office space. In the UK, they initiated a start-up competition last November.
Dell offer a similar competition, hosting a start-up each year to help it grow in its offices. Sage will enable the start-up to leverage the management team, IT and marketing as well as its wider ecosystem. That ecosystem is growing with 800 employees in the Paris area alone, a channel program and offices in more than 23 countries.
Serge Masliah, CEO of Southern Europe commented: "It is in a new workspace located on an exceptional site that we now welcome the 800 employees of Sage. We are a hundred meters from the business district of Paris La Défense, in a building designed by the architect Sir Norman Foster, whose reputation is worldwide. Today, life in a company changes, we have to adapt to the new needs and expectations of our employees.
"We wanted a modern site, innovative in terms of design, and bringing both light and acoustic comfort. Co-working spaces will allow for better working and the fostering of collaborative practices. Moreover, we have reserved a separate space for our start-up accelerator. "
What does this mean
For Sage France, this is a step into the future. Just by moving into a new building it will give the morale of staff a flip. The benefits of moving into a modern building that supports modern working practices could have a significant impact on the bottom line. While there will be additional costs they should be better placed to attract new employees, especially millennials. A survey by the American Society of Interior designers found that 49% said that an office makeover would increase productivity and 62% said that it increased job satisfaction.