Marine Transport International (MTI) has launched a proof of concept (PoC) trial. The aim is to connect parties involved in the recycling supply chain via blockchain technology. By incorporating FRED, the most widely used recycling software in the UK, the trial will link all parties involved in the recycling ecosystem:
from supplier
to shipper
to port operator.
The initiative hopes to deliver equivalent efficiencies to the recycling industry that apply in blockchain-enabled container shipping PoCs.
Jody Cleworth, CEO of Marine Transport International, further comments: "FRED is the UK market leader in recycled materials software, and we're delighted to be partnering with them on this proof of concept to demonstrate the practical application of our blockchain technology in the recycling supply chain. Working with Phil and his team has meant we're able to share all the data shippers, carriers, hauliers and ports needed to process shipments, without the accompanying workload. The shipping of recovered materials is heavily regulated, and we've had a real impact in simplifying the process while remaining compliant.  The potential savings in time and money for less regulated commodities is huge."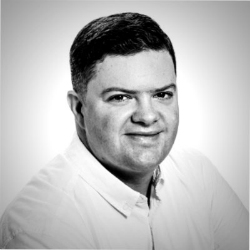 The recycling waste shipping connection
MTI's COMSHIP is a blockchain enabled data structure which makes it possible to:
create a permanent digital public ledger of transactions
share this among a distributed network of computers
add to records on the ledger in a secure way without the need for a central authority.
The attraction to MTI of blockchain data is that of verification, immutability, and global accessibility. For example, designated parties can record and retrieve blockchain data anywhere in the world using mobile phones, tablets and PCs. This shrinks the need for costly and proprietary infrastructure.
COMSHIP includes a rating system and booking platform. This enables clients to search for rates or even upload rates. These rates link directly to the booking system, which in turn connects global carriers – via the blockchain.
In effect, MTI's blockchain means hauliers, shippers, port operators and ocean carriers can instantly share consistent information. In contrast, in the conventional way of working, all data needs uploading into the individual parties' systems. This involves dozens of emails and paperwork. Necessarily, with so much manual involvement and many steps, errors or even conflicting information arises. This, in turn, slows or even prevents completion.
As such the MTI use of blockchain:
streamlines the supply chain
increases the integrity of data processes due to the security-by-design that blockchain enables.
FRED
'FRED' (Fast Remote Entry of Data), began development in 1985. This first version was bespoke and written for two customers. Since then FRED has progressed ever since and now is the UK leader for software for the recycling industry. FRED's fifth generation arrived in 2012 and has some 500 users daily.
FRED has tight links with Sage which began in 1986. Increase Computers, FRED's developer, has accreditation as a fully licensed Sage Business Partner and Developer. FRED capabilities link into Sage to provide a comprehensive solution, from collection of waste through to the book entries.
Phil Short, managing director of Increase Computers comments: "By incorporating blockchain into a live process, we're tapping into a major opportunity to help the recycling industry hugely simplify the way it transports material. There has been a huge amount of hype around blockchain – with this proof of concept we're involved in a real and practical application with significant global potential. We now own a plug-in to the MTI network, which means we can support our customers to share their shipment information with everyone involved in the supply chain. The beauty of MTI's technology is that it can integrate with other systems, so while it's preferable that everyone is part of the same network, we can still connect with them via existing devices if they aren't. In addition, it takes out the laborious process of booking shipments and moving recovered materials."
What does it mean
This MTI/FRED initiative is a PoC. Not all PoC's work out. Nevertheless, MTI, with bases in the US and UK, a network for shipping and experience with blockchain technology.
Similarly, FRED has an established base of users who need to ship recycled waste to end destinations. This involves hauliers, shippers, port operators and ocean carriers, where MTI's strengths come into play.
If the PoC is successful, Increase Computers hopes to roll out this implementation of blockchain to its customer base. While not direct integration of blockchain into FRED itself, it enables FRED customers to work with a blockchain-enabled service. This will extend familiarity with what blockchain can achieve, and into an industry area not usually thought of as leading edge.