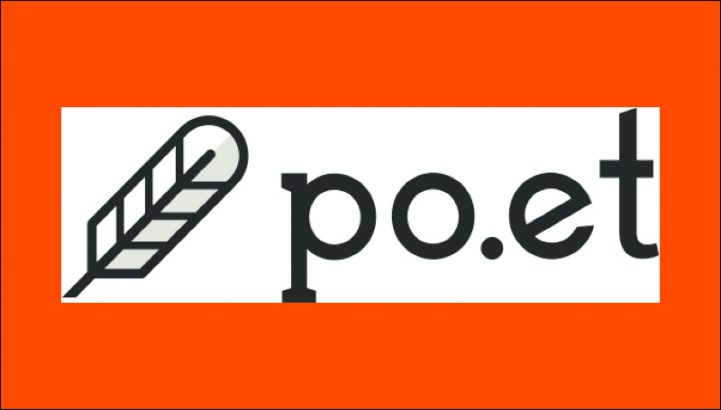 Digital media publications The Merkle, Crypto Insider, Coinspeaker, and ChainB – are partnering with Po.et. The announcement was shared in a blog by Max Bronstein, media and strategy at Po.et. They are adopting the Po.et 2.0 because it offers a blockchain solution with timestamped metadata. This establishes proper attribution and licensing opportunities for digital publishers.
Po.et 2.0 – Proof of Existence 2.0 – is a blockchain protocol which:
establishes an open, universal and immutable ledger
manages the unalterable ownership, attribution and licensing of creative digital assets. Po.et builds a bridge between creators and publishers
enables the discovery of new content and verification, authenticity and authorization of generated content through a transparent and timestamped system of attribution.
"Mediasphere expands vastly in the world of cryptocurrency every day. We, as a publisher, take great charge of copyright protection and content security. At the same time we want our content to be topical, open to public, understandable and well-structured. It is obvious today that blockchain is the foretype of next gen Internet. Po.et has a high goal and contributes greatly to its development and promotion. It is reasonable to start from the root – the cryptoworld. We at Coinspeaker are happy to be among the first who enters into partnership, and believe that together we are building new Internet-community right now," said Coinspeaker CTO & co-founder Egor Pavlovich.
Why Po.et?
Po.et is a shared, open, universal ledger. Designed to record metadata and ownership information for digital creative assets. It is one of the first non-financial applications of blockchain. By creating an open platform on the Bitcoin blockchain, Po.et aims to create a globally-verifiable record of digital media assets. This record will be a framework for building smart, interoperable media applications using a shared, standard and extensible metadata format.
The core objectives of Po.et is to create a platform which simplifies the process for publishing, licensing and authentication of digital assets. Simplifying the publishing process necessitates solving the issues of document integrity, licensing, arbitrage, analytics, syndication and attribution of digital assets. Po.et aims, therefore, to create a Bitcoin blockchain-based platform with:
smart contract functionality
applications to facilitate distribution of digital creative works
remove marketplace friction for publishers, editors and content creators
deliver greater cost efficiencies in hashing metadata than previously possible.
Po.et will provide their new integration partners with the ability to timestamp and time-license their content in an unalterable system. It will automatically issue digital ownership certificates in the form of a 'Badge' which users can integrate on their own platforms. This 'Badge':
enables authentication of blog/news ownership
provides individual profile management systems for the writers they employ
builds a digital fingerprint of the author's history and preserving the writer's journalistic portfolio.
The Po.et platform
Po.et's platform includes a digital media licensing marketplace. Its core product – the immutable portfolio is an asset wallet for all creative digital assets where territory and search parameters are considered for licensing and monetization. Po.et is laying the foundation for an open, blockchain-based protocol for decentralized media applications.
Po.et uses the SHA-256 hash of a file as a digital identifier for that asset. SHA-256 is one of many cryptographic hash functions that take an arbitrary amount of input data and deterministically produces a fixed-length output, known as the data's 'hash'. This verifies that data has not been altered because, if any part of the input data is changed and the hash algorithm is run again, the hash will change.
Po.et embeds this hash or digital identifier in the Bitcoin blockchain by generating a special Bitcoin transaction that includes the hash using the OP_RETURN opcode, which allows for the storage of up to 40 bytes of arbitrary data in a provably unspendable transaction output. (At the current bitcoin market price of $2,686, the cost to store 350 bytes – an estimate of a basic transaction – is ~$0.05. This price per claim is negligible compared to alternative solutions, though Bitcoin's wider adoption may yet see this this price rise.).
The basic building block of the Po.et network is a 'claim'. A 'claim' is:
a message stored along with the public key of the person or enterprise which sent that message
a valid cryptographic signature for that message and public key.
While the Bitcoin blockchain provides a secure, immutable data store, content storage on the blockchain would be expensive. Therefore, Po.et uses the BitTorrent network to store the complete content in files. Instead of storing assets and metadata on the blockchain, Po.et stores this data in a distributed hash table using the BitTorrent and the Kademlia DHT network. This allows them to be shared via torrent.
What does it mean?
Blockchain technologies are changing the face of the financial sector. Blockchain creates an immutable and distributed accounting ledger. This can serve as a platform for a host of different financial applications.
Po.et aspires to do something similar for the publishing industry. Again, by creating an immutable and distributed ledger for creative works, Po.et hopes to serve as a platform for both centralized and decentralized media applications.
Po.et is ambitious. The analogy with the finance industry is both apposite and potentially misleading. As the description (above), of how the Bitcoin blockchain and BitTorrent/Kademlia interact to obtain both hash and content, the solution has multiple externalities. These must introduce complexity. Another 'fear' involves the cost of Bitcoin storage. If this doubles, so does the cost to store 350 bytes; of course, if it halves, it will look even more attractive. The future of Po.et will likely depend on adoption by several enormous publishing houses rather than the relatively minor ones listed earlier.