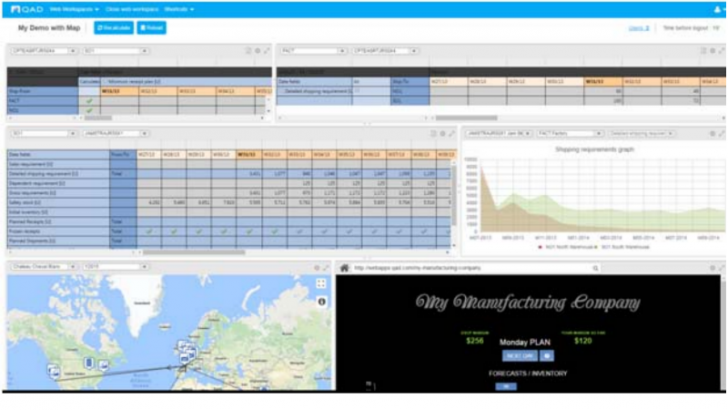 QAD has announced the general release of the latest version of its demand and supply chain planning application (DSCP). The release, first unveiled back in April, has a number of functional improvements along with updates to the user interface (UI).
Luc Janssen, QAD Vice President of R&D – Manufacturing and Supply Chain Solutions, commented: "This latest version features many improvements and extended capabilities that make QAD DSCP more comprehensive and even easier to use. The new web portal has a rich and responsive layout, enhanced components and can display multiple views while resizing to fit any device. We have also added a number of functional improvements including additional configuration and planning features. Lastly, we have launched a new pre-configured DSCP solution that will get customers up and running quickly in a turnkey environment."
QAD DSCP provides manufacturers with the ability to control complex supply chains.  The solution includes: Demand Planning, Distribution Planning, Production Planning, Procurement Planning, Sales & Operations Planning (S&OP) and Network and Inventory Optimization. The software enables companies to improve forecasts and better manage inventory. It is available both on-premises and as a cloud based solution.
Improving the User interface
QAD have delivered several enhancements to the user interface. This includes the introduction of simplified Chinese for both the main interface and standard objects. There are also now more than 70 view templates in QAD DSCP 2017. Many of the new templates are grids but some are graphs and they are available throughout the application modules. Users are able to create views from the ribbon rapidly, displaying relevant data according to the configuration selected. Other improvements include the ability to search within macros and rule bases for specific text.
Web Portal improvements
The web portal pages are richer and more responsive. They have been developed to stack and resize dynamically. This ensures that users can take advantage of the portal no matter what device they use, desktop, tablet or mobile. There is also better access to short cuts on the home page so users can quickly navigate to their favourite pages. This aligns the product with the main application home pages creating a consistency for users.
QAD has also updated the dynamic chart and map components. Charts are now more flexible and charts views in web workspaces are no longer images, they are actual chart components. This has enables QAD to add a feature that allows users to hide chart components, thus simplifying displays enabling better visibility of key data. It is also possible to set up browser views for external websites. Users can draw on additional relevant data to display on screen such as weather or 3PL information.
Functional improvements
While there are improvements to most planning modules the demand planning receives the most attention with this update. Improvements include the ability to create "What if" scenarios, with the ability to compare different statistical forecast in real time. There is also a new feature that supports family seasonality. It has also introduced several new algorithms for demand, distribution and production planning to support additional business constraints.
What does this mean?
While there is no major new functionality this release delivers a level of consistency across mobile and desktop functionality. The iterative improvements that QAD has introduced are significant. The availability of simplified Chinese is especially welcome and will allow manufacturers to host solutions within Chinese factories with less risk of errors. It will also be welcomed by Softspeed Consultant Group who became the Chinese QAD distributor in July 2016. Waiting a whole year for a simplified Chinese seems a long time, but it is here now. It will be interesting to see whether there is an uptick in sales in China now.
As tablets and mobile devices are increasingly seen on the factory floor the improvements to the UI are especially welcome. It will allow users to be more effective using mobile devices.