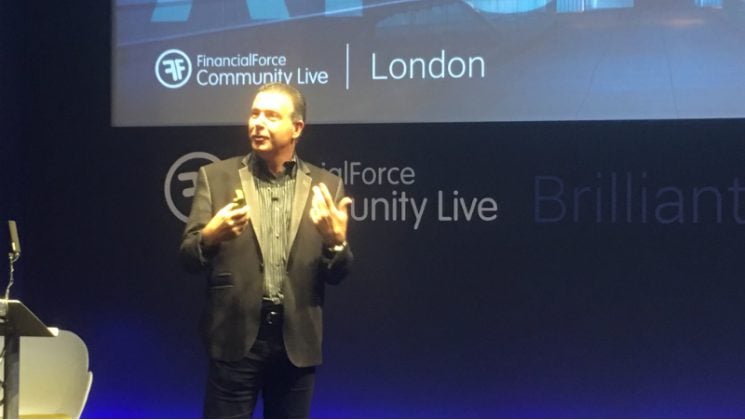 Tod Nielsen, CEO FinancialForce kicked off their Community Live 2017 event at The Crystal on Royal Victoria Dock. According to Nielsen this was his first public keynote since his appointment a little over 100 days ago.
If the audience of customers were looking for news about what the company was doing with its products they were disappointed. Instead Nielsen delivered a keynote about the evolution technology.  That change of technology is increasing in speed. Nielsen said "We are at this incredible point in time where I believe that we will experience 20,000 years of change in the next 100 years."
Nielsen believes that Marc Andreessen's vision of "Software is eating the world" in his iconic 2011 Wall Street Journal article is now reality. In fact Nielsen stated that the next article should be entitled: "Services are devouring the galaxy". He continued explaining that "We are entering  a new phase in our economy… and that is a new services economy"
It was at this point that Nielsen began to lay out his vision and strategy for FinancialForce in the coming months. To be fair the full strategy is not yet visible but there is an air of excitement and change at FinancialForce as they look to accelerate their growth.
My first take out:  Functionally rich for the new service economy
Nielsen continued to carefully draw out the evidence that all companies are becoming service based. They are looking to new business models such as subscription based. Companies such as DUFL are offering a Closet as a Service. This allows individuals to ship their own clothes to themselves in to avoid taking luggage with them on airplane.
He mentioned Rover, a dog walking service and jokingly mentioned that one might be able to obtain a pet as a service in the future.  In fact www.borrowmydoggy.com already offers this kind of service in UK and Eire! Even traditional companies such as GE and Boeing are looking at how they can change their business models to one that is service orientated. We frequently cite Rolls Royce who no longer sell aircraft engines they offer miles as a service.
Companies need to look at subscription, usage and managed service models in the future. The inference was that FinancialForce are ready to adapt their solution to meet that need and potentially across many verticals. The functionality of the financial and professional services solution will meet the needs of any companies looking to adopt new service models.
For FinancialForce it opens up a much wider market than the one they might have originally focused on. With growth a key component of the CFO, CIO and CEO strategic agenda he clearly believes that FinancialForce can meet those needs.
While the argument sounded compelling there is still much detail to work out. As a purely financial solution FinancialForce will need to consider introducing industry functionality /modules. How they might achieve this or even whether they will do this isn't known. If they do go down this route customers are eager to get them. Enterprise Times spoke  to Paul Risk, CTO, The Warranty Group, who stated that one of the things he would like to see in the future from FinancialForce is an insurance vertical add on with functionality specific to that industry.
My second take out – leaning goes both ways
Nielsen drew out how he thought what business should consider for any new ERP solution. The core requirements are Business model agility, time and talent management and optimisation and predictive insights for a feedback loop. That feedback loop is important and it is something that FinancialForce is hoping to deliver both for itself and its customers. Nielsen drummed in that "speed is the new currency" and it is something that FinancialForce looks to deliver.
Dan Lombardi, VP Business Process and Quality, Hewlett Packard Enterprise concurred: "With FinancialForce we can innovate at speed to adapt to whatever comes next in order to meet our customer demands."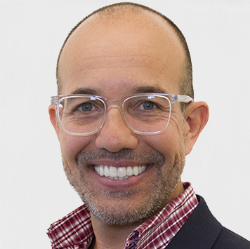 Nielsen was more prescriptive saying that FinancialForce can adapt to any business model and new revenue stream. They will optimise talent and will provide predictive insights through a single customer model. So why is this important?
The second take away is that FinancialForce will focus even more on customer advocacy. This is something that Fred Studer, CMO describes as through marketing. This is a subtle change of focus for FinancialForce. From its early customers it has always had a close relationship with its clients. This is taking that relationship to a new level.  What is clever is that Nielsen already has the culture in place for FinancialForce to adopt this approach. It may mean some internal changes. One challenge might be that the sales team need to be both farmers, looking after customers through to the next renewal and hunters, looking to win business and move on.
FinancialForce cannot do it alone and Nielsen reached out to the customer base as he concluded, saying: "This is a journey and partnership working together. My commitment to you is that we are going to lean in. We are going to provide you with the visibility and transparency on where we are going and what I would ask is that you lean in with us"
Conclusion
Nielsen has formed a highly performing team at FinancialForce. He is in the process of refocusing the company onto a narrow path that it is moving slowly down. Over the next few months, notably at the Community Live event in Las Vegas next month, there should be more announcements.  This will bring a focus to what the product itself is doing to support a business that is continuing to grow fast.
It is going to be very interesting to see what brand and marketing campaigns Studer and Nielsen come up with in the near future. What is certain is that across the whole business there will be a renewed emphasis on relationship marketing.  FinancialForce will look to create and maintain the relationship with its customers in the future. This, they hope should increase both customer satisfaction and more importantly lead to customer success that they will be happy to advocate that FinancialForce was a contributing factor to.