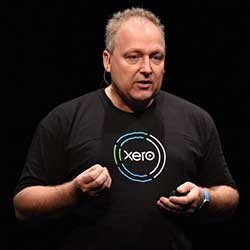 Cloud accounting vendor Xero continues to outperform the market with its latest results. The results are impressive even when compared to Xero's previous results. They also show that Xero has hit a major milestone. The second half of last years results show that the company had positive cash flow.
This will cheer investors as it means the company has reached the point where it will soon stop burning through cash. By the end of  FY17, operating cash outflow was  down to just $4.4 million. This is more than $30 million less than the previous year. More importantly, the improvement came against a major systems re-platform as the company completed its move to AWS.
According to Xero CEO, Rod Drury: "It has been a milestone year for Xero, achieving operating cash flow break-even in the second half of the financial year, and doubling subscriber numbers in less than two years to pass the one million subscriber mark, while completing our major re-platform to Amazon Web Services. We continue to recruit exceptional talent, and I'm proud our team has executed on all fronts to again achieve strong results for this financial year and build new foundations for additional waves of growth in the future."
The numbers tell a positive story
A significant reduction in cash outflow to just $4.4 million is a reason to be positive. It is just one of several numbers that showed losses and costs were being reduced at the same time revenue was increasing. The company has even managed to half its EBITDA loss. This was just $28.6 million down from $57.9 million in FY16.
It is not just costs and outflow that the company has managed to get control of. Xero has also added a significant number of customers. It is outgrowing major rival Sage by a substantial amount. The company claims that Xero has nine time Sage One's ACMR. It also has 15% more subscribers than Sage One across the UK and Ireland.
Moving beyond accounting is paying off
Alongside this Xero has continued to add financial advisors and accountancy companies. Part of its appeal to these companies is the focus on value-added services. While it is not providing a suite of additional solutions, it is encouraging its partners to move beyond just accounting. The company has also been pushing the message that the profession needs to become trusted advisors across a range of different areas.
It has also invested heavily in integrating its products with the major banks and other financial institutions. It is now integrated to over 110 financial institutions worldwide. There is no sign of this slowing down and it will be interesting to see when it begins to branch out to other market areas outside of accounting.
Conclusion
The recovery for IT companies is being led by those who have embraced cloud. Their lower cost base and speed of new product delivery is attractive to customers who want a constant stream of new products. Xero has taken advantage of that and is continuing to increase its growth. That has led to it reducing costs substantially and getting closer than ever to being fully profitable. If FY2018 follows the same path as FY2017, the company could be reporting net cash inflow rather than outflow by this time next year.