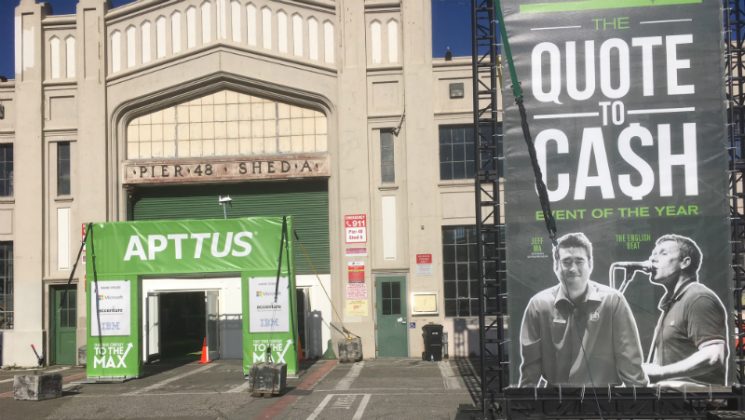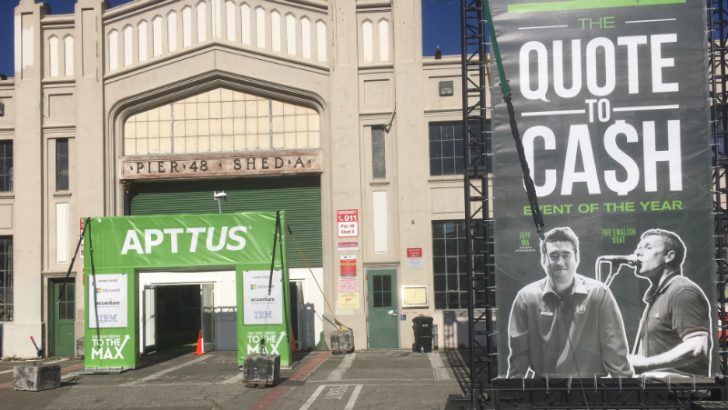 Apttus has brought Snap performance to life with the help of Azure. In creating the Apttus Intelligent Cloud (AIC) on the Azure platform they have enabled the application to scale up for larger and more complex enterprise.
The market leader for Quote-to-Cash has received some criticism from customers with 10,000 thousands of products that quotes and searches can be more time consuming that users would like.  Apttus prides itself on making a difference for its customers and delivering real value. This latest announcement sees it reduce waiting times within its system significant.
Demonstrated on stage during the product keynote they demonstrated that a search that might have taken seconds now took millisecond to produce the response required. They also demonstrated the raid application of configuration rules within the system Where a user might select a laptop for example, not only was the long list if laptops available in milliseconds, but the subsequent options that the user was able to select were also retrieved rapidly.
Powered by Azure
The system now takes less than 300 milliseconds to return responses. Powered by Azure it means that the quotation calculations are no longer powered by the CRM system that it integration to but faster computing power architected to support what it needs to do.  Customer using AIC with Salesforce CRM will benefit from the advanced computing power that AIC is hosted upon.
One of the reasons for this improvement in speed is the ability that Apttus has to leverage new programming languages supported by Azure such as AngularJS. Customers on AIC will benefit immediately from the performance gains and should see an increase in user satisfaction.  This has also enabled Apttus to improve cart responsiveness through an Anguar Grid user interface (UI). This lets users quickly scroll through lists on enterprize size carts, rapid searching and pricing. Apttus believe that the new improvements deliver a 90% improvement to response.
Kirk Krappe, Apttus CEO commented: "Apttus Snap Performance was built from the ground up to create a smooth experience and immediate results for all of our customers. We're working with the largest enterprises in the world to ensure their quoting, configuration, and pricing operations perform at the highest possible level. As the first and best name in Quote-to-Cash, it is our responsibility to drive the industry forward and this is the next step. Apttus Snap Performance will deliver unprecedented success to our customers."
Conclusion
Apttus had a successful Accelerate conference in San Francisco with around 3,500 attendees. This speed improvement was one many improvements that was well received by the audience.  While this announcement was greeted more with the satisfaction that Apttus seem to have solved a problem, this was merely a functional improvement. What Apttus concentrates on is delivering value to its customers.  It's machine learning and augmented intelligence capabilities with Max for example many wanted to apply within their business. That Apttus is not just looking at the things that add value but also at improving the usability is important. No software vendor can slow down its development work on either if it expects to grow its market share.