I was a panellist in a seminar recently and the topic of discussion was 'Preparing for investment or exit'. It was very well attended and we had lots of audience engagement. The attendees were a mixture of start-up businesses looking to go to market for funding and more established business looking to prepare for exit. I thought it would be useful to share with you some of the questions that were raised on the day.
What are the key things that investors will look at before deciding whether to invest or not?
Investors typically invest in businesses and management that they believe in. They look at hundreds if not thousands of business plans each year yet invest in no more than a handful. The key characteristics they look for include:
Credible, talented and highly driven entrepreneurs, founders and management teams
Potential for growth – both locally and internationally
Large, fast growing or uncontested markets – for instance health foods, food tech
Tax incentives – EIS, SEIS
A clear exit route
Why is a business plan important to businesses?
A business plan offers investors a 'window' to your business. It is important to know where a business is going. People tend to start businesses because they get to do something they love, but do they always have a clear mission and goal? A business plan helps the business owner think of the mission and how to go about achieving it. It provides what I call the 'road map' of the business. More importantly, it gives credibility to your business. It will encourage you to think about things you had not thought about and the challenges you are likely to encounter and how you will overcome them.
Business plans are not set in stone. They evolve over time as you learn from your mistakes. You identify what works and what doesn't work for your business.  The important thing is to have a business plan that is realistic and achievable and considers the risks and opportunities that exist.
Why are financial projections necessary and what points should you consider when preparing these?
Financial projections help you and potential investors understand your business road map in numbers. How much are your sales going to grow and how are you going to go about achieving that growth? It is very important to understand your numbers – especially the cashflow.  For business owners, not knowing or understanding their numbers is simply not an option – cashflow is the lifeblood of all businesses.
Key points to consider:
Keep the financials realistic . Don't say you will triple the turnover in one year if there is no strategy to achieve it.
Make sure the assumptions used in the projections are sound and provide evidence to support these assumptions.
The plan needs to include the three main elements. These are profit and loss account, balance sheet and a cashflow statement.
Know your numbers inside out. An investor will interrogate you on these numbers and they should be able to stand up to scrutiny.
How do you ensure that your business is investment or exit ready at any time?
I like to call this good 'housekeeping'. If you have got past the stage of generating interest from either an investor or a potential acquirer, the next stage is due diligence. Good businesses are run in preparation to pass a due diligence inspection at any time. Every business should take measures to ensure that it is investment or exit ready at any time.
To make sure your business is ready it is important to be able to answer certain questions, for instance:
What are your business KPIs and how are you performing against these?
Are you regularly benchmarking your performance against those of competitors?
Do you know who is investing or acquiring in your sector and why?
How robust are your financials? Are you preparing and monitoring management information regularly?
Are your systems and procedures well documented and easy to follow?
Your brands, are they protected?
Are your employment contracts, policies and procedures in place?
Is the technology your business uses fit for purpose and are correct licences in place
At what point would I recommend someone gets me involved – how early should they be brought in?
That depends on the type of business owner. We will often come across business owners who know exactly what they are doing and how they are going to go about doing it. They are financially aware and will therefore come to us when they need the help. Crucially, they know when to come for help and that is okay.
However, more often than not, business owners don't come to us early for other reasons, the key reason being to keep the costs down. That is not a good reason as this can cost the business owner much more in the long term. I would say the sooner a business owner comes to us, the more we can help groom the business and help achieve the business objective.
Conclusion
Good businesses will get funded and good, attractive businesses will find investors. The key is preparation. Groom your business from Day 1 so you have proper systems, documents and procedures in place and always make sure you are keeping abreast of all developments within your sector.
---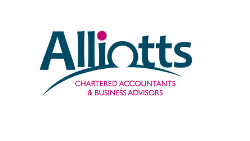 Dipali Buch is an accountant and corporate financier with over 15 years experience. One of her specialisms in is the Technology sector. She is a partner at Alliotts Chartered Accountants.
Alliotts are experts in cloud accounting software and are Xero Platinum Partners. If you are concerned about making tax digital or would like to consider cloud accounting solutions please contact us.