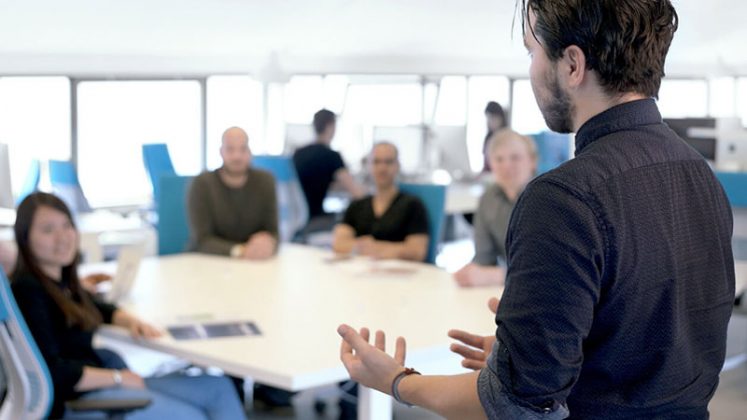 On the eve of SuiteWorld 2017 NetSuite issued its first press release about Bynder, the global marketing software company. Based in the Netherlands it implemented NetSuite in two short months. Late last year at Suite Connect, Bynder were on stage talking about their experiences. Enterprise Times received an update to find out how the installation is going and where they are taking it next.
From Startup up to Scale up
Chris Hall, CEO, Bynder said that the company, founded in 2013, soon outgrew their initial accounting solution. That was Yuki, a Dutch cloud-based accounting solution that was unable to scale to meet the demands of Bynder.
Bynder's growth is substantial. 350% growth year-on-year led them to be named in the Deloitte Fast 50 Rising Star in 2015. That growth was why they selected NetSuite, another cloud-based solution to support their growth trajectory. They are now reinforcing that decision with further investment.
Bynder has expanded out of Amsterdam into Rotterdam, London, Boston, Barcelona and Dubai. It has more than 50 million media assets stored in it digital asset management solution and is used by more than 150,000 brand managers across 350 companies. Those companies includes such well known names as KLM Royal Dutch Airlines, PUMA and AkzoNobel.
Growth is not slowing down. Bynder has announced it is accelerating its growth in Australia and New Zealand. It recently announced that the Bynder software was deployed on Amazon Web Services' Sydney data center. This gives Australian and New Zealand companies access to their media assets with minimal latency.
The challenge this growth brings is visibility of all the subsidiary businesses. This is more than just rapid consolidation of accounts at period ends. The advantage that NetSuite delivers is that the single solution holds the data for all subsidiaries. This makes reporting and analytics much easier to accomplish.
So why did they choose NetSuite? A Bynder spokesperson commented: "One of the more important reasons we entered into an agreement with NetSuite is because it offered us the possibility to easily set up processes around Month/Year End including consolidation, and allows us to always have that information at our fingertips."
Easing the problem of rapid installation
Bynder has replaced one cloud-based financial solution with another. This was not without its complications. The NetSuite software is currently used by only 10 finance staff, a newly recruited NetSuite analyst and five member of senior management. It also uses its own DAM software as Salesforce CRM. Part of the installation challenge was the integration of Salesforce into NetSuite.
In the end Bynder chose not to integrate their own solution into NetSuite. A Bynder spokesperson commented: "Because NetSuite focuses on ERP we don't see the need to include our own DAM solution to integrate with NetSuite. What we may think about in the future is syncing back to customer invoices within our own product, giving customers more information at their fingertips. However, this is not in our current plans. "
We also asked what key lessons they learned from the implementation process. Hall replied: "One important learning for me, which I always refer back to, is that you cannot spend enough time scoping your design and your preferred processes after they go-live. We are growing so quickly and it is very important to have clarity on this and to focus on keeping the processes simple. The fewer steps, the better. It is very easy these days to just add things because then we have 'more data', but if you don't actually do anything with the data then the only thing you are doing is creating noise. It is important to spend some time thinking and strategizing before you start!"
Processes have now been simplified and outsourcing eliminated. Impressively, despite growing more than 300% the company has not needed to increase the size of its finance team. They can now automate the invoicing of customers in the appropriate currency as they deal with multi-national organisations. NetSuite has also enabled them to customise with additional fields and templates to deal with complex legacy customer contracts. These changes are outside the core platform and they can therefore take advantage of the latest updates from NetSuite.
So what has changed in the last eighteen months
Eighteen months of use later and Bynder is looking ahead to what they need to continue business growth. Over the last year it have made some significant improvements to the solution. It has simplified the processes in transaction forms used to process supplier bills and reduced the time month end takes. It has also reconfigured the user permissions within NetSuite to ensure that the system will cope with the company growth as job roles evolve.
Bynder now has a solution that delivers real time forecasting allowing the company to identify business opportunities. The reporting functionality available to them allows the creation of real time reports that can be shown to investors. The inference is that this helps reassure investors and potentially helps with future funding. NetSuite supports the new revenue recognition rules coming into force shortly.
Integrations and what is coming for Bynder
Since going live Bynder has added additional integration to Adaptive Insights. This delivers additional reporting capability to the solution. The company is also looking to implement an expenses solution, Xpenditure.
This is one of the advantages of the NetSuite platform. Its APIs and extensive partner program allow companies to add specific applications that meet other requirements in the business.
Bynder is also looking to proactively improve their ERP solution. The spokeperson said: "In other companies finance departments, they often hold onto control by keeping manual tasks. Bynder is a digital asset management company, and I feel strongly that the Bynder finance team has to adopt the same mindset of automation and efficiency of the larger company. Over the next year, we're looking to fully automate the billing cycle from a 'closed won' new order until the invoice is sent. We have just hired a NetSuite analyst whom we'll ask to help improve Dashboards for specific roles, advance our bank reconciliation, and look into SuiteScripts to further integrate NetSuite with other systems (or maybe even our product)."
Whether Bynder does integrate its DAM solution will be interesting. While unlikely, it is does give it the possibility of reselling that system as a NetSuite partner. It would be a business decision about whether Bynder's USP is its software or whether there is an advantage to selling the solution in conjunction with NetSuite. NetSuite does have a broad reach into media companies and the ability for some of them to manage their digital assets is a route they may wish to take.
Conclusion
Bynder has proven that it is possible to successfully implement a modern ERP solution such as NetSuite in two months.  There were some factors that helped with this. Firstly he implementation appears more finance than business driven. Secondly that Bynder was already using a cloud-based accounting solution. This means there would have been less concerns about move into the NetSuite cloud from a smaller player.
Tim Lorijn, Finance Controller, Bynder, in a canned statement said: "NetSuite is a robust ERP platform you can set up easily and quickly," said "As long as you're open to new developments, you can keep improving, customising and automating as much as you want. NetSuite is an enabler, not an impediment to growth."
We asked what the senior management most liked about the NetSuite solution. He answered: "The native reporting functionality and always seeing the consolidated balance sheet per subsidiary for a specific month, including eliminations."
What Bynder has done is not just selected their second cloud accounting solution but chosen a future proofed platform. One that they are continually developing and improving. For the moment it certainly seems they are confident that NetSuite can meet their growth aspirations.