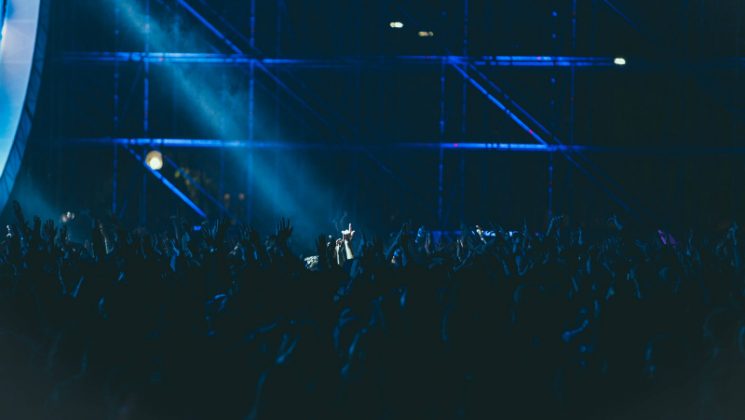 Hands up who doesn't like the new way in which the MS Office Quick Access folder – which used to be called Favourites works now. Changing the name to Quick Access Folder only seems to be causing confusion for people with the Quick Access Toolbar. For me, do like the fact that folders you access regularly automatically get placed here BUT I like to be in control. Sometimes I don't need 100 folders in this one folder I just want the few I use regularly. Let's look at how you can override the automatic feeds.
Turning off automatic folder selections
Select File manager in any way you like.
Select the Quick Access Folder.
Select Options from the View tab.
From the list that appears
Select Change folder and search options.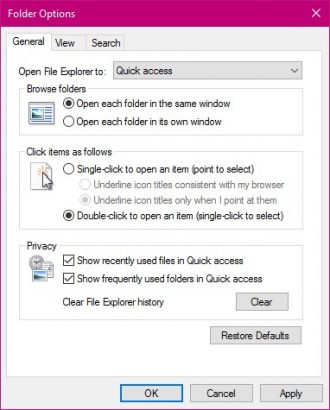 In the third box titled Privacy uncheck the two options there. This means that recently used files and folders will not automatically appear in the Quick access folder and therefore whenever you go to the open or save dialog box you will not be inundated with folders you do not wish to see.
Managing the list in Quick Access Folder
There is a need to have this area populated with the folders you frequently go to. It makes it easier to find the files you wish to work on.
In File manager, locate the folder you wish to add and make sure the address path shows the folder you wish to add to this list.

Right mouse click on the Quick Access folder.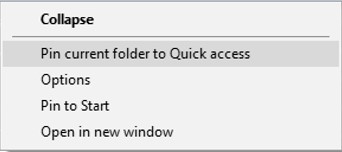 Select Pin current folder to Quick access.
And there you have that folder now in this list at the top of the tree where you can locate it very quickly and easily.

Removing folders from the Quick Access
Right mouse click on the folder you wish to remove.
Select Unpin from Quick access from this list.
So now you can rest easy in the knowledge that you only see the folders you require and can easily add or remove new ones without having a host of others appear just because you wandered into that folder at some time.