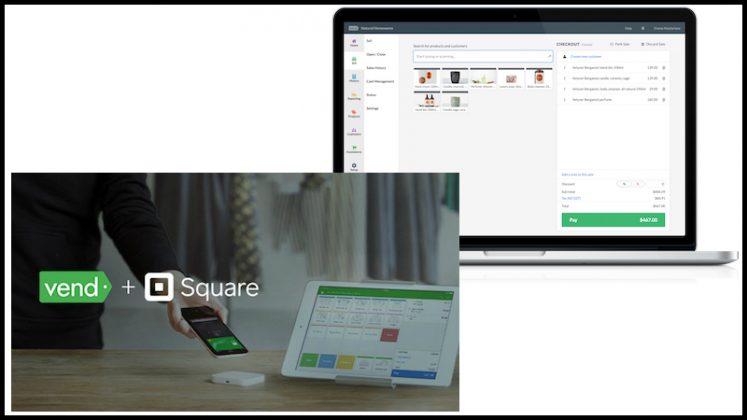 Vend has announced the release of its Spring update in a blog by Ashley Gilgrist, Product Marketing Specialist at Vend. The release includes several new features
Vend and Square
Vend already has a partnership in the US with Square payments solution. That relationship has now extended to Australia. Retailers in both countries can use Square payments in-store to accept customer payments. Square levies a consistent rate for all charge cards and does not vary its rate by transaction type either.
Katie Waltman of Katie Waltman Jewellery, Salt Lake City, Utah commented: "We love Vend and we love Square. Vend makes it simple to manage complicated inventory at multiple locations. We use Square for processing, because it's easy to learn and train, and it's reliable. Together, they offer everything you need in a POS/payment processing system."
Improving or downgrading the Sell screen
Vend has also made changes to the Sell screen. It may be a simple change to the user interface (UI) but it will make life easier for retailers. The previous version of Vend used a greyed out locked line, which meant they were hard to read on screen. They are now highlighted better.
There will also be improvements to the search functionality. This is not available yet, but will make a big difference those companies with a large number of SKU (stock keeping units). The whole search engine is changing to improve the speed of retrieval. The downside of this is that offline search will not be available to users, although items can be found by barcode. There may be a backlash from this change as some vendors working in pop up stores may regret the loss of offline search features.
Other improvements
Other changes include improvements to the reports functionality. Users can now add customer group, email and phone details to customer sales reports. This enabling rapid follow-ups to customers by users. Reports can be segmented based on products and sales. These reports can then be extracted to provide support in marketing campaigns. Sales line item notes in the Sales ledger are now included along with export to CSF file formats. There are also several minor bugs fixes included in the new release.
iOS update to Vend Register
The blog talks about Vend Register 2.54. This release included support for the Epsom-T20 printer and resolution of the link to the Star TSP605II Bluetooth receipt printer. It also supported smaller barcode printing to increase the space on receipts. The latest release is 2.5.5 which became available on 29th March fixing a crash issue with iOS update 10.3.
Conclusion
This is not a major release, although retailers in Australia will welcome the integration with Square. Vend also updates its iOS platform regularly and users should check to ensure that they have the latest update available. This should not mean just click on the update app but also read the release notes that come with it.
It will be interesting to see how the loss of functionality for offline working is taken. If enough users complain about the loss of that functionality Vend will need to reconsider their search functionality again. It is surprising that they took this step when many software companies are increasing the offline functionality of their products.