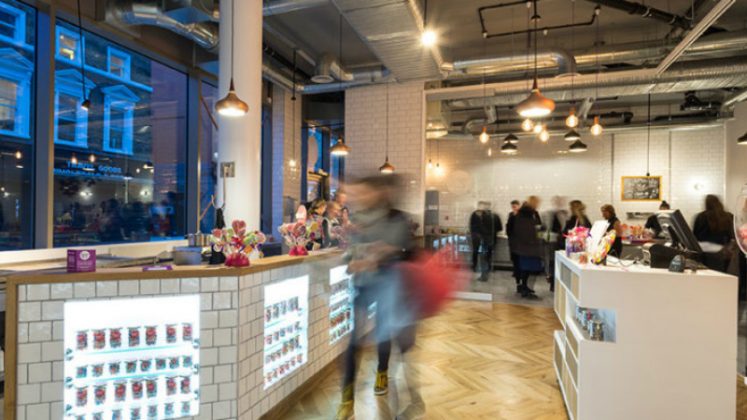 Enterprise Times caught up with Shakil Mohammad, CEO of Spun Candy at QBConnect in London. Mohammad joined Spun Candy 5 months ago, having run his own business for the previous ten years. Spun Candy launched in 2013 and develops and sells handmade rock candy. They offer masterclasses and have stores in several overseas countries through franchise stores, but have around 25 staff in the UK
ET:                                          So why Spun Candy?
Shakil Mohammad:         It was a very easy choice. A very vibrant business, very slick marketing. Interesting revenue streams, a fun product, very colourful and I really enjoyed interviewing with the directors of the business. We got along really well and now I'm accountable to them because they're the board members. It's important to like the people that you're going to work with.
ET:                                          When did the company start using QuickBooks?
Shakil Mohammad:         When I joined they already had it for about a year and we will keep using it. It's very simple and very easily laid out. I have some accounting background and have done the CFA Level One. I found it very intuitive.
ET:                                          How do you use it?
Shakil Mohammad:         We use it to chase cash for the business. Looking at the accounts receivable summary very frequently to tell us who owes us how much and when it's coming in. It allows you to predict what cash flow the business is going to have. You can make slightly bolder decisions in terms of strategy. Do I want to spend that money on marketing? Do I want to spend that money on hiring somebody? Do I want to get a system in place that makes things a bit better?
The second angle is from the payroll, the PAYE. It's helps you calculate the tax. You can send your payslips out to the employees, it's all pretty simple.
The third angle is management accounts. We learned to break our revenue streams into cost centres. We can find out if each revenue stream is profitable, be it location based or revenue stream based. We can historically go back and bulk change the information. If you bought something for 100 pounds and you need to attribute 30 to Dubai and 70 to Oman, we're doing right now.
The accounts are becoming very insightful in terms of knowing historically what the business has been doing. I'm being given information in a more systematic way and I'm able to see where we can cut costs and increase revenues.
ET:                                          What is your main take out of QBConnect?
Shakil Mohammad:         It's not a corny answer. I genuinely liked everybody that I met at Intuit, very courteous, very encouraging. They gave me the impression that they wanted to help us as a business grow. It didn't seem like a one-way relationship. I like that relationship a lot. People make a business and the people that Intuit has are friendly, welcoming, helpful and very efficient.
ET:                                          What's your biggest challenge at Spun Candy at the moment?
Shakil Mohammad:         To take the company in the direction which gives it the best revenues, while making sure that the customer standards are kept intact. We need to focus on what we're best at doing which is candy making. We can use it to either teach people how to make candy or use it as a corporate branding tool. It would be ideal to grow the business with these two revenue streams in mind, and then the peripherals can grow simultaneously.
ET:                                          Who is your inspiration and why?
Shakil Mohammad:         Mo Farah. Somebody that just does one thing for a really long time and perfects it to a point where he then gets recognition in the world for his discipline. To have that level of discipline is quite remarkable. I've also met him in person, he's so down to earth, very humble.
ET:                                          What's your personal challenge for the next 12 months?
Shakil Mohammad:         I want to build a core team around me that gives me the right support. Organisations are made up of people. You can do whatever you want, but if you don't have the right support from the team around you and they're not strong in every way, you can't delegate and you can't grow. That's already happening. I have one person per department that gives me accountability and gives me a lot of insight into the business.
ET:                                          What was your darkest business day and how did you overcome it?
Shakil Mohammad:         I was running my warehouses from up north, and I came across a manager within a business that had acquired the business from his father. He ran the distribution on my behalf for three months. I went up to see him to sort things out. Customer complaints were getting too high for the deliveries that they were getting. I knew there was problem from the data that I was looking at and you already have an intuition that something's wrong.
I was just shocked and horrified to see how some people don't care about their businesses because it's been given to them on a plate. His inability to engage with me, his inability to actually just understand that I'm his customer first and I should come first. Logic didn't work, data didn't work, four meetings or forty didn't work with him. It was a dark day because it was just such a shame to watch somebody have something so amazing and not do something wonderful with it. I moved my distribution within a month straight after that.
ET:                                          What's been your proudest moment?
Shakil Mohammad:         I became a dad last month, to twins, which is amazing. It really empowers you to do your job so well. The board gave me a lot of support to go out in Mexico where the babies were born. I was running the company from there. I spoke to them recently and said: "I will do anything to make this business work and work really well, because I know I have to make sure that my boys are going to be proud of me". I've gone to the other side and I now understand how parents feel.
ET:                                          Can you share a tip for new CEO's?
Shakil Mohammad:         There are several. The first is to go with your gut feeling and believe your intuition. The second is only make educated guesses and take risks in the area once you've researched everything within that domain. Don't go in blindfolded and just try and do something. Read up on it, ask the people the right questions, probe, ask stupid and right questions and then make the decisions. Third is believe the numbers you're seeing. They talk better than what the people are telling you. On one side you might be getting told productivity is really up but then you look at the amount that's being produced and it will just tell you that the two don't add up
ET:                                          What was the latest business book you read
Shakil Mohammad:         I haven't read one for a long time. I'm a visual guy. I like watching videos. There was a video with Simon Sinek on Millennials in the workplace that I watched a couple of days ago. I thought it was pretty funny. It's about how the new age generation wants to work very little, have a very short attention span, demand a lot more and then want to be rewarded really fast. I think there's an element of truth to what he says but I don't agree with it 100 percent.
ET:                                          What are your key business challenges for the next 12 months?
Shakil Mohammad:         I would like to focus a lot on digital marketing and getting it right. It's a very tricky area to get right because you can pour a lot of money into it and it disappears. Luckily, I have a lot of experience of doing that for my own company in the past. I want to keep it in-house for the time being so I know exactly which words, clicks, ads and campaigns get us results.
ET:                                          What would be the worst and best decision you made as a CEO?
Shakil Mohammad:         I can't regret any decisions I made regardless of them being bad or not. Amazon releases a list of 12 leadership principals that they work with, one of them says leaders are always right and have the ability to reverse the decision when even they do the wrong thing. I really agree with that so I don't think I would stand up to you and say that I made a bad decision.
The best is that I've been very much myself. I've asked very direct questions while making sure that I'm sensitive enough to the other person to get the data that I need from them, at an operational, sales and franchising level. You need to ask the questions and these are usually people's domains where they don't let you in very easily. Just being able to tap into people's behaviour and getting the information out has been the best thing that I've done. It's allowed me to fit in to the company really fast.
ET:                                          What are the key challenges faced by your industry at the moment?
Shakil Mohammad:         If you look at candy as a gifting market it's growing really fast. People are very driven by social media and online platforms rather than actual stores. The ability to be able to connect with your clients first on a digital platform, rather than a retail store, is an opportunity and a challenge at the same time. You need to capture that market.
Then you have innovation, which is the really interesting part. There are just too many products out there with slight variations. Coming up with something original or new that's not on the market and then making sure that you give it to people in such a way that it tells a story or has a second dimension to it is quite important. Like how we now are designing jellies that are vegan. That's a niche market and it's becoming trendy. It is about being able to capture what customers want.
ET:                                          How do you see the company changing in the next two years and how do you see yourself creating that challenge?
Shakil Mohammad:         I don't intend to change the branding of the company and the offering it gives. I think it's very slick, very smart and very shrewd with the way it presents its product and services. What I would like to do is give it more exposure to a wider audience. To have more franchise arrangements set up abroad, have a couple more stores in the UK and be stocked in several more department stores. We've just signed up with London Eye. We're already in Selfridges and several others.
ET:                                          The level of sweetness in international markets varies quite a lot, even within the Middle East, is that a challenge?
Shakil Mohammad:         This is not my exact domain. James Ellender, who is the founder of the company, he deals with all the franchise arrangements. Whenever he needs a franchisee from a particular location the arrangement is usually very bespoke. We usually tell them to make products that are spun orientated but still have a skew towards the geographical taste of that area. In Dubai, they're very hot on some of these brands that we work with like Candy Crush and at the same time they do have a sweet tooth.
I don't know how much it varies across the different countries. If you asked me about Asia, I would say they are more interested in the colourful aspect of the business. They probably like the pictures that we put in to the rock candy which we design ourselves. But the Middle East definitely likes the taste part of it.
ET:                                          What is the challenge of growth for you going forward?
Shakil Mohammad:         To keep the right staff members and personnel. To make sure the team is tight and works really together. Communicate with each other and focus on the revenue streams that the business is best at doing, such as running Masterclasses. We're ranked number 13 on Trip Advisor for workshops in London. We would focus on just making sure we get better at that, do it faster and increase the volume in that area.
The second would be designing a wider product range, which is not just focused on candy. The two options that we're looking at are jellies and chocolate orientated products.
ET:                                          What's the one question you'd like to ask another CEO to answer?
Shakil Mohammad:         What is the most difficult thing you do and how do you overcome it? An honest answer to that question. That's when you get the demons out and they start telling you. Maybe get them a glass of wine before you ask them that question.
ET:                                          My last question, and sorry, I don't have a glass of wine, but can you answer that question yourself?
Shakil Mohammad:         With any situation that you're in, as a CEO you have to look at so many different angles of the business. You can't keep everybody 100 percent happy no matter what you do with the business. There's always conflicts of interest within and outside the business. Your goal is is to come up with a solution that makes the most amount of people happy. There will always be somebody that has a problem with what you do. Majority is not always right but majority wins. It's a simplistic way of simplifying the things I have to deal with.
ET:                                          Thank you.