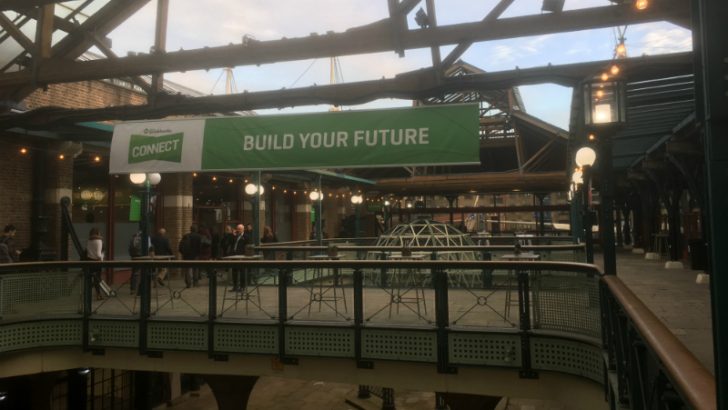 Intuit has reached the milestone of 100,000 online subscribers at QuickBooks Connect this week. Spread over four days including a two day Hackathon the event hosted several inspirational keynote speakers including Lord Alan Sugar and Mary Portas. It also revealed the availability of a few new features in Quickbooks.
A successful event in London
The event had more than 1,000 attendees with four days of events including a 2 day Hackathon. Around 500 people including bookkeepers and accountants attended the partner day. More than 700 small business owners and self employed customers of QuickBooks filled the Tobacco Docks venue to capacity with now spare seats during the initial keynote.
This is Intuits first global QuickBooks event held in London. Attendees who Enterprise Times spoke to said they felt it was worth attending. What was interesting during the initial keynote by Sasan Goodarzi, Executive Vice President Small Business, Intuit was that he didn't mention cloud once. Speaking to him later it was clear that Intuit believe that terminology is no longer needed. Every one of their clients and future clients uses a smartphone and new businesses never look to purchase desktop solutions. Cloud is fundamental to their offering, but it was refreshing that they didn't feel the need to continually remind people of its existence.
New features for QuickBooks
Goodarzi said on stage that "We hear you need to get paid faster." This call to action was followed by a demonstration of how QuickBooks tracks the payment process at every stage. From raising the invoice, confirming receipt and whether that invoice was viewed. Then tracking when the invoice was paid by the customer and also when the money arrived in the businesses account.
A recent enhancement to this is the integration of Paypal to the invoice generation and payment process. Businesses can select whether they wish to be paid by credit/debit or by Paypal. This allows rapid and customer friendly payment options that help increase the speed of payments. For QuickBooks customers working in the construction industry, the system also calculates construction industry scheme deductions and produces custom reports based on the new requirements.
The mobile enabled invoice creation tool has been available for several months. It helps cut the time that customers take to raise, send and track invoices. QuickBooks estimates that self-employed workers and freelancers can save up to 12 hours a month managing their finances with the solution. Another time saving tool demonstrated on screen is the ability for the mobile app to track journeys and flag them automatically as personal or business. This ensures that regular business journeys are always reclaimed and regular personal journey discounted eliminating time consuming paperwork.
Smart relationship feature added
Intuit has also recently enhanced the Find-a-ProAdvisor to the platform. This allows small business to find a suitable accountant to work with. It is a service that QuickBooks offer themselves as well. If SME's choose to use QuickBooks they will find the best accountant for them to work with. This is no longer about finding an accountant in a geographical area but one that has expertise that can help the business grow. Intuit are not alone in offering this service with Xero recently enabling a similar directory search.
Intuit believes that in the future businesses will not always need to meet their accountants face to face. Goodrarzi commented that: "We believe there will be a world where they (Customers) won't want to see you (Accountants)." He also commented that accountant and bookkeepers need to: "move up the value chain in terms of giving advice to small businesses." They will need to spend more time offering the business owners more advice. He believes that most current work such as data preparation will not be required as software replaces it. It is therefore critical that small businesses find the right accountant to work with them.
Platform is key
One of the other focuses for Intuit is in their platform and its strength in helping developers create apps. They had 23 teams contesting in the hackathon demonstrating their seriousness at this. With 185 apps on their app store they already have one of the largest around. The winner, Arbitrue won a prize of £5,000. It will be interesting to see if and when it appears on the app marketplace. Intuit aims to make its developer experience simple and developers are now able to access and test sample code within 15 minutes using the sandbox.
Conclusion
The four day event successfully showcased QuickBooks commitment to the UK market. Growth in the UK is running at 145% 117% year over year leading the growth of QuickBooks outside the US. Subscribers outside the US grew 61% year on year in the second quarter. Talking to customers the QuickBooks offering is more than just technology. They have a platform that meets all the application need of business. They are also delivering customer service that is friendlier than other vendors and looks to help the customer with their business rather than the accounting system.
The event had a very different feel than those of its competitors Sage and Xero. It was smaller, had a very friendly atmosphere and was subtly different. The messaging on how accountants and bookkeepers need to evolve was similar but phrased in a positive manner focusing on small business and the self employed. In comparison Sage is looking to help drive entrepreneurship in the SME market. Xero is constructively driving accountants and bookkeepers to the digital age. QuickBooks is here to stay and seems to have hit a formula that will see it grow its numbers. Whether it will catch up with Xero remains to be seen.