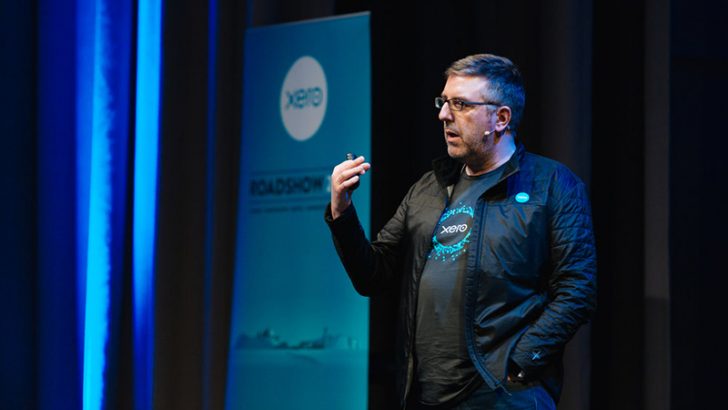 Gary Turner is the Managing Director of Xero for UK and EMEA. He has been at the company more than seven years overseeing rapid growth in the cloud accounting space. Xero UK now has £25 million in revenues and more than 164,000 subscribers. We caught up with Gary and asked him his thoughts on leadership, his challenges ahead and the market.
ET: Who is your inspiration, and why?
Gary Turner: "There are two answers to that. One is my parents. I grew up in an entrepreneurial household. My father ran his own business and my mother did the bookkeeping for that business. Just growing up and being around the kitchen table hearing about business stories as I was growing up, was hugely inspirational.
"I don't think there's any one person I hold up as being my principle source of inspiration. I love hanging around people that inspire me. Just hanging around people that work hard, want to do a good job and think big is incredibly inspiring. I've just been very lucky to be able to work with lots of people that have given me that in my career."
ET: How would you describe your leadership style?
Gary Turner: "At heart, I'm passionate about what we do and what we're trying to do for our customers. I like infecting other people with that same passion, and inspiring them to see the opportunity to be successful and to do great things.
"I'm definitely not a micromanager, a classically-trained manager or leader. I've just learned when to step in, help and give directions also when to step back and let people run with it. "
ET: What are your challenges for the next 12 months?
Gary Turner: "Xero is growing at 60% per annum which puts us into the category of hyper growth. A big focus for me is making sure that we're laying the tracks down, on or ahead of where we are today. To ensure that we have got the right people, the right management in place, the right initiatives, the right ways of working that are appropriate for a business that's going to be significantly bigger in 12 or 18 months than it is today.
"We're going to look very different in a couple of years than what we look like today. "
ET: What was your darkest business day, and how did you overcome it?
Gary Turner: "I tend to be a 'glass half-full' guy. I tend to be ever so optimistic about everything, even when things are tough and then they usually involve people: restructuring a team, or letting somebody go.
"Probably the first couple of years in management were really tough. Making really tough decisions, and learning the hard way. I wouldn't say they were dark days. I've just been very lucky in that I've always been in businesses that were growing and doing cool stuff."
ET: What was your proudest moment?
Gary Turner: "I think that pride comes before a fall. The minute you start feeling proud about things, you're only a couple of steps away from complacency setting in. Then, before you know it, no matter how good you feel, in a couple of years it all kind of breaks down. Having said that, I do feel proud of what my team achieves – that's a privilege."
ET: What was the latest business book you read, or your favourite book or podcast?
Gary Turner: "The book that had the biggest impact on my career is a book called "The Cluetrain Manifesto by Rick Levine, Doc Searls, Chris Locke, and David Weinberger." It was a blueprint for the world of business that we're in today, but about 15 or 16 years ago. I read it in 2000 and it was a huge wake-up call for me as we were just getting into the first generation of the web.
"It mapped out the potential that the web and social media and internet could have. I think it gave me a three-year, four-year head start on everybody else. I wouldn't be doing what I'm doing today if wasn't for that book, I can guarantee that."
ET: Can you share a tip for new CEOs?
Gary Turner: "You've got to have a great team. I remember the first time I took on responsibility for running a software company, I generally didn't really have a clue what I should be focusing on. I had a great CFO and great leadership around me that actually pointed me in the right direction there.
"If you're new to being a CEO, clearly you've got some talent, ability and experience to bring. But you can't do it on your own. You need to have an amazing team around you."
ET: You do quite a bit of work with Fintech startups, is there a favourite tip you offer them?
Gary Turner: "Focus. Focus on what it is you're trying to achieve. A lot of the time businesses try and stretch themselves over every opportunity that they can see but fail to actually nail one of them. Or they don't focus hard enough on one area.
"A favourite analogy of mine, is that the focus and intent of a start-up is kind of like the difference between throwing a bullet and shooting it from a gun. Lots of people throw bullets and think they're actually making progress. Actually they're nowhere near as focused or as intent as they should be."
ET: The competitive landscape for cloud accounting in the U.K. is getting warmer. How is Xero going to react to the increasing threat?          
Gary Turner: "I don't actually think it has changed. The market for cloud accounting software is finite. There are only so many businesses at any one time in the market for it. We're in a free market, we can't force everybody to become a Xero customer. We're kind of relaxed about the fact that competition's a good thing: it forces us to work harder and our job is to force our competitors to work even harder.
"Right now, I'm really comfortable. We have a great product, we're getting great validation from our customers, we're growing more quickly, and building our great business. I don't think about competition particularly. During my day, I think about what we're doing for our customers, and if our competitors want to spend money on the virtues of cloud accounting, then that's great for us too."
ET: "QuickBooks had a major T.V. advertising campaign recently, and Sage launched a digital campaign. Your radio adverts are quite smartly placed. Talking to a Xero partner the other day they were concerned that this would bring extra competition."
Gary Turner: "It doesn't work like that. Otherwise, we'd be spending a lot of money on advertising. We could afford to spend a very large amount of money on advertising and choose not to, because it is not an effective mechanism compared with the other ways we spend our money.
"I'm cool about it, but if you are Intuit or Sage, what else are you going to do? You've got the balance sheet to do it and you've been caught napping. You don't have the scale and you're late to the market. You're going to spend money on advertising and then at least it looks like you're making progress. The reality is they're not. No matter how much you spend on marketing, there aren't any more people to sell to. It's actually quite a small number. If you're an accountant you have a pre-existing awareness to notice these things, and therefore some very logical concern or question for some. 'Well, wait a minute, we've seen lots of advertising.'' But actually, as far as businesses go I don't think it works that way."
ET: Which three technologies do you think will influence cloud accounting most in 2017?
Gary Turner: "Machine learning is huge, not in just cloud accounting. Machine learning and AI in its basic form is like electrification a hundred or so years ago when electricity became cost effective. We're going to be imbuing everyday objects, processes, businesses with a degree of intelligence and cognitive ability that will allow us to just completely transform business. Intelligence is the next big thing for the next twenty years, not just the next 12 months.
"Security. Not as a technology, but security as a dimension of technology.
"We have to do a much better job of it in the coming years. Fraud is going off the charts and all software vendors, including us, have a responsibility to help with that."
"As a bit of an outside bet, I'll be interested to see if Blockchain has any immediate applicability to what we do. There's lots of talk about it. I think we might see the first few prototype applications on Blockchain in 2017."
ET: What will success look like in 2017 for Xero?
Gary Turner: "Sustaining our hyper-growth rates. In the last 12 months we grew 60% in the UK, and we obviously want to try and maintain a very healthy rate of growth. Success in the UK therefore means getting on for a quarter of a million customers, continuing to win lots of awards, and building up our team with great new hires."
ET: How do you see the company changing in the next two years, and how do you see yourself creating that change?
Gary Turner: "This is my eighth year creating change with Xero, and I will continue to do that. It's just the change is bigger. It involves more people and is possibly going to be more complex. We think that we're on a journey to a million customers in the UK. My job is to ensure that we've got the right people, the right investments and the right projects to continue to see Xero growing at the rate we are."
ET: How do you prioritise your day and how much time do you spend in different areas?
Gary Turner: "I like to have the first hour of every day, with a slice of toast and a cup of coffee and then spend an hour on my inbox and to-do list, just answering what's come in overnight from my colleagues around the world. I follow up on the previous activities, and set out where I'm going to focus on for the day. I have that pretty religiously. Because we are growing so quickly, there are lots of things. No two meetings or two initiatives or areas that I am working on will be the same throughout the day which is great, because I have a short attention span. Interestingly, on Saturday, I get up really early, go to my local coffee shop with my iPad, and I finish off my week. I follow things that I didn't get done by Friday, and all the things I want to do the following week.
"I have a couple of hours every Saturday morning to clear the decks, so my team usually get lots of emails from me early on the Saturday morning, and then I can log out for the whole weekend and then spend time with the family."
ET: When will we see a foreign language version of Xero?
Gary Turner: "We don't have a definitive time. If I was to guess, I would say in the next 18 months to 2 years. "
ET: Is it being worked on then, or not yet?
Gary Turner: "Worked on in the sense of scoping and understanding which markets we might want to look at and what the requirements would be. Language is actually the easy part; the complicated part is the GAAP reporting, coding and other aspects of localization. We're evaluating which markets and what kind of timelines. But I would say 18 months to 2 years."
ET: The obvious choice is Afrikaans because you've already got the regulations in place.
Gary Turner: "You could argue Spanish, for North America. There is a huge Spanish population in the US. It's an interesting one. Often it's boiled down to just language, but it's actually down to the size of the market, and what are the other local regulations and customs and practise that we need to localise for."
ET: What's the one question you'd like to ask another CEO?
Gary Turner: "What is the worst and best decision you have made as a CEO?"
ET: Can you now answer that question yourself?
Gary Turner: "My worst. I've noticed that the majority of my worst decisions were usually where there was an absence of a compelling reason to proceed and they've been reached on the basis of 'Why not?' – Good decisions always need a clear 'Why'.
My best. "I'm not afraid to change my mind on an imminent decision when someone proposes a better one. Too many CEOs feel this obligation to be the chief decision maker, even when they're not sure themselves. I think my job is to lead a quest to find the best decision, regardless of where it comes from. Some of the best decisions come through that approach. "
ET: Thank you Gary.