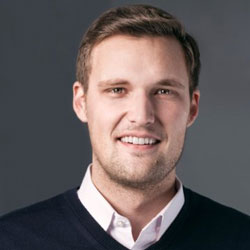 An Irish and German collaboration has taken to Indiegogo to seek funds for a hardware VPN device called the Navia. Digital Equipment Communications Ltd and ZenGuard are after €60,000 in funds for their portable VPN appliance. With 30 days to go they have managed to reach 53% of their target with some packages already sold out. This is a market which has been around for a number of years. As Internet privacy and intercept concerns continue to grow, it has begun to mushroom.
According to Simon Specka, founder and CEO of ZenGuard: "We have found the ideal partner in DEC to help make this cutting-edge VPN technology accessible to the general public. Through an intuitive web application, multiple users can dial into the Navia system and then connect to public WiFi simultaneously.
"This is the simplest version of a mobile and private VPN that can be used without having any special technical skills or software installed. In addition to the 128MB of encoded disk space, the device also contains battery storage that can charge devices such as smartphones, tablets or laptops. Navia's battery life is approximately 12 hours and access can be shared with others."
What does Navia do?
Ignoring Specka's odd comment about dialling in, Navia is effectively a portable router with a built-in VPN and some data storage. The idea of using it to protect devices when in public will appeal to a lot of corporate buyers. Users relying on public WiFi never know what they are connecting to. With the Navia, ZenGuard is promising that connections will be protected.
However, it doesn't say if the device will search out and automatically connect to every public network it finds. It could still require the user to create a list of public and even private networks that the Navia will connect to. While this is no different to using a mobile device today the user has to connect first to the Navia and then configure it. Hopefully the final user interface will be slick and easy to use.
ZenGuard is also promoting the Navia as a sharable device. As with most portable WiFi devices on the network today, you can connect up to 5 users at a time to a Navia. It will be interesting to see if it is possible to give any device priority. Share with enough friends and you could find that when sitting in a coffee shop they are hogging the Navia and you cannot get connected.
The sharing goes beyond a secure network connection. ZenGuard has added storage to the device. This will appeal to those who want to share documents or other data securely. For customers purchasing two devices, Navia is also offering an easier way to connect back to home networks.
Not everything is as it seems
This is a very busy market. ZenGuard are saying that their device is no bigger than a cigarette packet. However, there are other secure devices around that are much smaller and connect to key rings. This creates a challenge for ZenGuard when it comes to competing with those users who already think they carry too much.
It would be good to be able to add a SIM card for mobile network connectivity. Not everywhere has public WiFi and adding a SIM card would open up secure access across mobile networks. Perhaps this will happen with the next version.
ZenGuard claims that the Navia will bypass geo-restriction. In a lot of cases this is true but content providers are wising up to this. When they detect a VPN they either drop the connection immediately or force the user to keep restarting the session. As most VPN vendors use a known set of IP addresses in each country it's not a hard thing for them to do. This is more than just content providers being difficult. They often have restrictive licenses on the content they transmit.
Application providers are also experiencing issues with VPNs. Microsoft will regularly identifies VPNs using OneDrive as suspect. It generates a security email and forces the user to keep logging into their Microsoft account. This is a good thing in some respects. However, if you are a regular VPN user it soon becomes irritating and like the User Access Control (UAC) in its operating system, users will downgrade security on OneDrive.
Pricing and availability
The delivery date is currently August 2017 for those who back the project. The Indiegogo site also shows the Navia in a variety of colours. The cheapest option is currently €112 plus shipping (not specified). This includes a 1 year VPN subscription. For those who believe in the longevity of devices, a mere €263 plus shipping will deliver one Navia and a lifetime subscription to the ZenMate Premium VPN.
There is also a Navia VIP package. This delivers 10 Navia devices each with a lifetime subscription to the ZenMate Premium VPN.
Conclusion
This is an increasingly crowded market. Bundling the VPN with the device doesn't make this a premium product. What does separate it from some of the competition is the addition of internal storage. However it lacks a separate external battery pack which means the user needs to connect to power if they are using it with a mobile device other than a laptop. This is a drawback.
Making it a multi-user device also gives it an edge over some of the cheaper options on the market that connect via USB. However, for many business users size is more important than throwing up a group VPN. This raises the question of who exactly are ZenGuard aiming this at. Is it a consumer device? It would certainly appear to be so with the 10-pack option being the only enterprise option here.