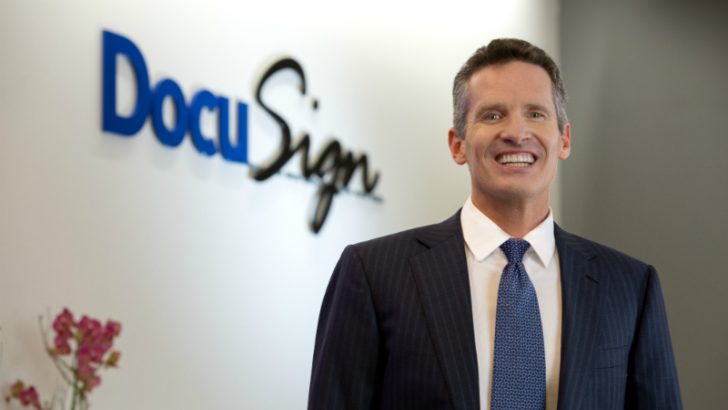 Docusign has appointed the Daniel Springer as CEO. This is the first full-time role for Springer since the sale of Responsys to Oracle for $1.6bn. Springer commented: "DocuSign has delivered tremendous value for hundreds of thousands of companies and millions of consumers around the world by providing them with a faster, easier and more secure set of services for their digital transformation journey. I'm thrilled to join a team of such highly passionate leaders and employees so deeply focused on customer success. I look forward to leading the next chapter of DocuSign innovations to bring even more value to our customers, developers and partners around the world."
Having spent the last three years with his family it seems the lure of a successful company experiencing hyper growth was something that Springer couldn't turn down. Investors will he hoping he delivers the same success at DocuSign as he had at Responsys. Keith Krach, Chairman of the Board at DocuSign commented "After our comprehensive CEO search, I am confident that Dan is the right leader to continue our hyper growth, further strengthen our pre-eminence in the market, and further inspire the innovative, entrepreneurial, values-based culture of DocuSign.
"Dan brings an exceptional track record of executive leadership, along with deep SaaS expertise and public company experience. As we pursue one of the largest strategic markets in the cloud today, we must continue to sprint this marathon, and I could not be passing the baton to a better person and leader than Dan."
Three reasons for the return
In a blog and video Springer gave the three key reasons why he has chosen to lead the eSignature company.
Growth: Docusign is experiencing hyper growth. This is not always easy to manage. DocuSign is not the only company to change their CEO to manage this. FinancialForce recently appointed Tod Nielsen to help them into and through this phase of growth. Like Nielsen, Springer has the experience of holding a company together and sustaining the hyper growth. It is the primary reason that drew him to the role. Talking about the growth challenge, Springer said: "This is an incredible size of business and opportunity. We have over 100 million folks in the Docusign network and we are adding over 130,000 people every day. So that's thrilling to me, I like to be at scale"
Innovation: Docusign is the market leader in the eSignature space competing against Adobe and SignNow.  Springer's enthusiasm for creating innovative products seems to have found a match at DocuSign. He commented "There is a long history of innovation at Docusign and I think not only is it exciting what we have built as a pioneer in the space but as a clear leader going forward and the opportunity for innovation is thrilling to me as a product guy."
Culture: Culture also attracted Springer to DocuSign. This is also one of the reasons that attracted Nielsen to FinancialForce. What is slightly different is that Keith Krach, the DocuSign CEO since 2009 will still have a role at the company as Chairman. With the founder, Tom Gonser as chief strategy officer that cultural fit is vitally important. Springer commented: "Third and most importantly for me is the culture. I have been thrilled by meeting the people here and the quality of the people that I have seen here. But also the values and the value that is particularly important to me is the Focus on customer success which is a big part of what I built at Responsys, so I was thrilled to see that here as well."
Conclusion
This is a strong appointment by DocuSign as they head into a future of sustainable growth. It gives them the choice of either IPO or finding an acquisition partner such as Oracle. Appointing Springer could be a signpost that they will look to be acquired. However before that happens he needs to continue the hyper growth the company is currently experiencing. Its last valuation in 2015, according to an article in Forbes, was around $3 billion. The next target, that should be in Springer's sights are sustainable profitability and Decacorn status, a $10 Billion valuation.