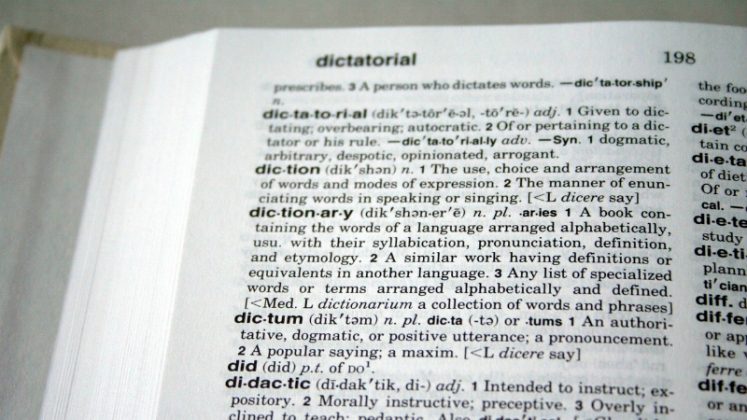 We all, I am sure, end up mistyping words especially when we are in a hurry. There are many more reasons for not typing correctly but I won't go into that. We all need and should use the dictionary to check that our work is spelt correctly at all times. Those of us who do use the spellchecker in Word may well get equally annoyed that there just doesn't seem to be enough correctly spelt words in that dictionary.
Many of these are words we use daily in our work are are flagged up by the default dictionary. There is a solution. It is called the Custom Dictionary. This is where we can store all the technical words or names of organisations and people that we use regularly, so that they will not be flagged up by the spellchecker.
Creating the custom dictionary
Firstly, you can add new words to this dictionary as you type. That is to say while you are creating your document and a word is flagged up as wrong by the default dictionary but you know that it is a correctly spelt. Right click on that word and select Add to Dictionary.
Here is an example:
Having selected Add to Dictionary this word is placed into the Custom Dictionary. You can go along and add as many new words as you require. This could take a long time though.
Adding new words to the Custom Dictionary
You might like to create a list either in word or excel or on a piece of paper of the technical terms you will need to have in your custom dictionary.
From the File Tab select Options at the bottom of the list.

It will take you to this dialog box
Select Proofing on the left of the box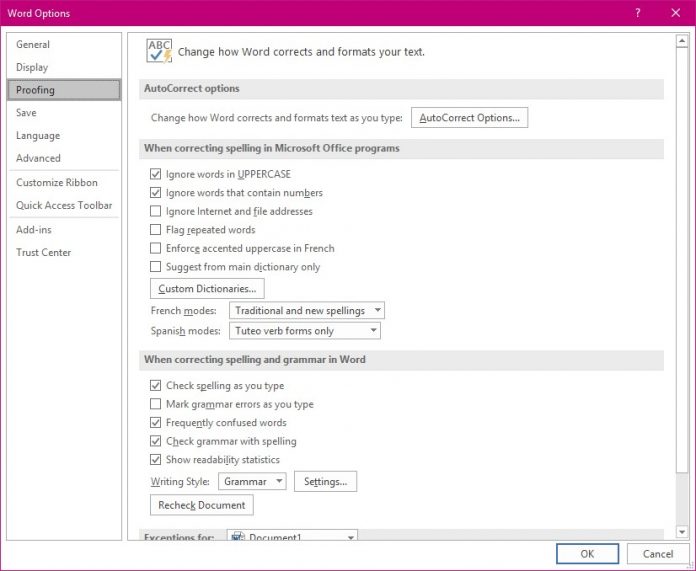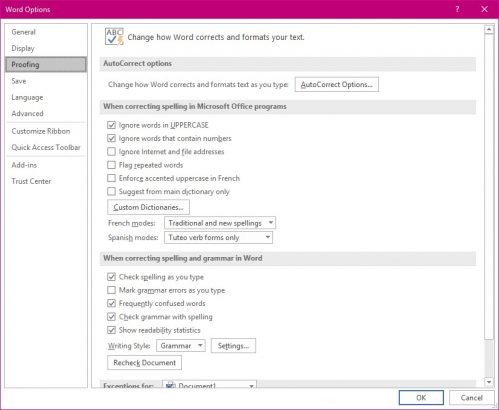 Select the Custom Dictionaries… button in the centre of the dialog box
Select CUSTOM.DIC.
Then select Edit Word List button at the top left of the Dialog box. This will open the dictionary to you.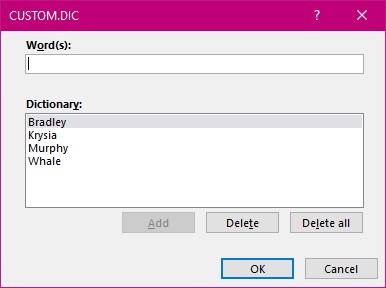 Here you can add and delete words, one at a time.
Conclusion
The use of custom dictionaries is important in many organisations. This is where IT support teams need to think about helping users out. There is nothing to stop a yearly, half-yearly or even quarterly task where the various custom dictionaries around a department or the even the whole organisation are combined. Duplicates and errors can be removed and when new employees join they can be given the custom dictionary to use. This will save them time entering new words into the dictionary.