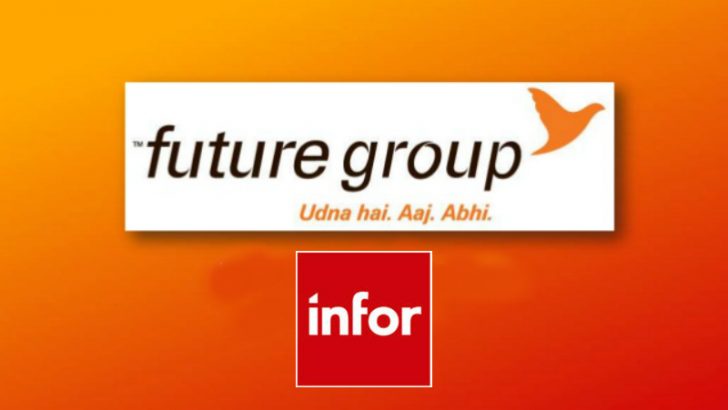 Infor has announced that Future Group, the multi-channel retail group, will implement Infor CloudSuite HCM. This will be an Infor Cloud deployment rather than an on-premises solution.
The right decision was cloud for Future Group
This is project some time in the making. Future Group first selected Infor a couple of years ago but the project to implement the solution was never started. Infor won the original bid in competition from SAP SuccessFactors and Oracle. With Future Group already using SAP as their core ERP and finance solution, it was a significant win at the time. There were three reasons for the selection of Infor according to the press release: "completeness of the solution, Infor relationship and lower TCO."  Since then Future Group has concentrated their internal resources on growth and innovation on the customer focused side of the business.
Infor is keen for customers to deploy to cloud and away from on-premises deployments. This will have played into the decision by Future Group.  An Infor spokesperson commented: "We converted them on to Cloud now and scrapped earlier agreements". Whether this is a precedent that Infor will repeat is hard to say. Infor's willingness to negotiate existing agreements demonstrates their desire for legacy customers to move to the cloud solutions.
The Infor AWS cloud
This new announcement also sees Infor implement its HCM solution within the Infor cloud, hosted on AWS. It also sees the TCO for customers come down further. This is the more sensible approach as it will make the deployment of the mobile and self-service elements of the application easier. With stores in more than 240 cities across India, Future Group employs more than 43,000 people directly. That number is not only growing but, as with many retail companies, the turnover of staff is likely to be quite high. This makes the challenge for the HRM team even harder.
The Infor CloudSuite HCM solution, specifically Workforce Management (WFM), Payroll, and Infor XM (expense management) will help the HR team with talent acquisition and management. The system will replace an in house and locally developed solution. Joint Managing Director Future Retail, Rakesh Biyani commented: "Human Capital Management is an integral part of the organizational strategy, capable of driving better business performance by enabling the People Office function and employees alike. Our expectation is for a technology solution that will meet our workforce needs today and also adapt rapidly to future requirements. We believe that Infor's HCM solution can create this value for our organization."
The project
The project will begin in mid-January. Infor consulting will own the delivery with alliance partners in the region providing support for the implementation of Payroll and WFM. It is still in the early stages and some decisions are yet to be made. This includes how Infor will integrate with SAP. The most likely choice is to implement Infor ION, the middleware platform that Infor has used previously to integrate its solutions with other ERP software such as SAP. They will make that choice during the solution design phase.
There are three phases to this project. The first phase will see GHR (system of record), payroll, expense management and T&A (time & attendance) go live within 6 to 8 months. The second phase will include Talent management and HR service delivery. The final phase is rostering, scheduling and learning management. Dividing the project into phases will focus it and ensure that each phase will complete on time. This is a major deployment for Infor and its consulting team. Other companies will sit up and take note, especially if successful.
VP and MD South Asian Subcontinent Infor India, Ashish Dass commented: "We are excited to enable the HR function of one of the leading retail groups in India. We understand that in a dynamic and competitive consumer landscape, companies need to have a technology platform that is robust enough to help recruit, retain and advance the right team members. This should happen while simultaneously providing critical data that will help contribute to a well-rounded talent management strategy."
The future
The project will likely take more than a year to complete. We asked Infor whether Future Group were also looking at the new Retail solution that Infor has developed. Their response was: "Future Group have expressed openness to discuss in coming times. Though nothing committed as yet". A successful HRM project might just open the door a little wider for Infor on that front as well.
Conclusion
For Future Group, choosing a cloud-based solution is sensible. It will enable them to deploy rapidly into new stores and businesses as they continue to grow. This is a project that will be interesting to follow. With Inforum being held in New York in July it will be interesting to see how the project has progressed. It should be close to launching by then with an initial pilot already having taken place.