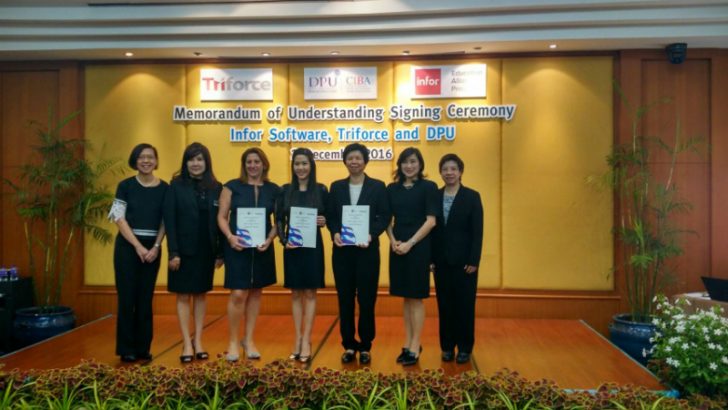 Infor announced the expansion of the Infor Education Alliance Program (EAP) into Thailand. The announcement detailed a partnership between Triforce, an ASEAN gold partner of Infor, and Thailand's Dhurakij Pundit University (DPU). Previous initiatives in the ASEAN region have seen collaborations with universities in China, India and Korea. Launched in 2014 the program sets up courses that help educate students in different disciplines using Infor software. It also provides work experience and opportunities for intern scholarship positions at Infor. In the ASEAN region more than 1500 students have benefited from the program already. The first 100 students will start in January 2017 as part of their bachelor degree program.
Accounting and business intelligence
The students will use Infor SunSystems software and Infor BI Q&A as part of their course. They will learn how to use the financial application as well as analytics and reporting using the applications. The students are the first to Infor SunSystems Financials using a cloud deployment in the region. For Infor this will give them a good reference and test bed for more than 200 clients already using SunSystems who might look to migrate to the cloud.
Dr. Pattanant Petchchedchoo, Dean, College of Innovative Business and Accountancy (CIBA), DPU commented "Our partnership with Infor will help our students prepare for future employment. Likewise, businesses in Thailand will also benefit from Infor's initiatives in fostering a skilled workforce ready to face challenges in the 21st century, as Infor SunSystems is already widely used in more than 200 organizations across Thailand."
Recruitment pool for the future.
The Infor Education Alliance Program (EAP), is an initiative that enables Infor to not just make students familiar with their applications, it is also a source of talent. The Infor scholarship picks the best students to work at Infor as interns. This allows the company to select the best ot the best for its development teams in the future. Students also benefit from access to the skills marketplace. This helps students find roles in partners and companies looking for employees with Infor skills.
Triforce fundamental to the agreement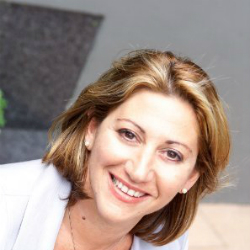 Triforce Global Solutions Limited is to work closely with Infor and DPU under the Partners in Education (PiE) program. They will be the resource on the ground helping to deploy the solution and act as liaison between DPU and Infor. Whether they will provide employees as lecturers or classroom assistants was not revealed.  Joan Lee, Executive Director, Triforce Group commented: "We are delighted to play a crucial role in making the Infor EAP and DPU initiative a reality. It will provide students with opportunities to learn about technology and its use in driving business innovation."
Will Infor extend the program to other ASEAN countries with the help of other regional partners? For now, Thailand is the latest beneficiary. Helen Masters, Vice President & Managing Director, South Asia – ANZ & ASEAN, Infor commented  "Infor has been a long-time supporter of the development of Thailand's technology sector. We are proud of Infor's collaboration with DPU and not only look forward to launching the program, but also providing our technology and know-how to help Thailand students and industries. We look forward to the expansion of the Infor EAP initiative across the ASEAN region."
Whether DPU will extend the curriculum to cover other Infor applications is not known although it would make sense. DPU has adopted the Thailand Model 4.0, a government education model aimed at driving innovation. DPU created CIBA, a college that includes four main faculties: Business Administration, Accountancy, Economics, and the International College. It includes education programs around accounting systems, finance, marketing, human resource management, logistics. Students are encourage to look to use big data and innovate solutions for Fintech and other industries.
Conclusion
Infor are slowly spreading their brand awareness across the globe. There is always a risk that these initiatives do not work fast enough. Charles Phillips, CEO at Infor is playing an intelligent long game with this strategy though. The one question is whether it is working quickly enough? Alliances in the US such as the City University of New York are working well.
Frank Sanchez Vice Chancellor, Student Affairs commented: "Public-private collaborations such as the CUNY/Infor initiative connect the intellectual, cultural and linguistic strengths of our students with the world marketplace of ideas. This collaboration and others like it will undoubtedly better position our students in the increasingly competitive global job market, while exposing corporate leaders to CUNY's extensive student talent. This initiative is a great example of where a university's success in talent development is meeting the talent acquisition needs of corporate America."
City University were one of several to stand on stage this year at Inforum talking up the EAP. The initiative may need to spread faster and wider to improve the Infor brand awareness. However, in terms of bringing in the top talent to Infor over the next couple of years it is a very good strategy.