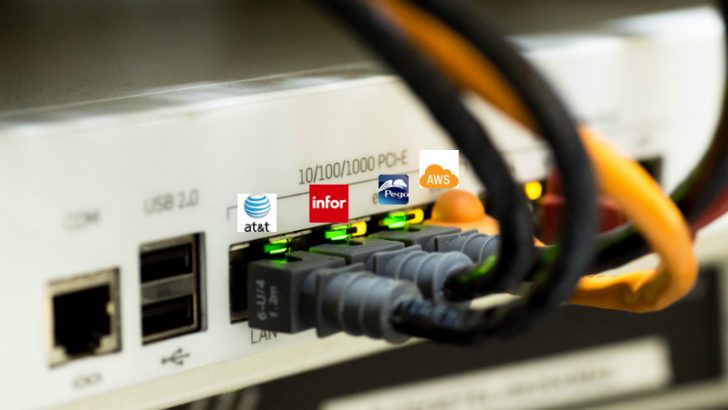 AT&T has announced that they have added Infor and Pegasystems to the AT&T Netbond Ecosystem via the AWS direct connect bundle program. This allows enterprises to create a highly secure connection between themselves and the Infor and/or Pegasystems cloud solution.
Infor are one of the largest ERP companies across the globe. This announcement will help them convince current on-premises clients to migrate to the cloud-based Infor CloudSuite solutions. Many companies are wary of using public cloud access to their ERP solutions. This announcement will allay some of those fears. AT&T MPLS clients will now be able to directly connect to the Infor and PegaSystems SaaS solutions.
Where companies previously relied on a sometimes unreliable internet connection their throughput is now guaranteed. Not only that but they will be able to apply QoS to the application stream if they wish to. This will further protect the throughput for business critical tasks.
Mo Katibeh, senior vice president, Advanced Solutions, AT&T Business Solutions commented: "We help businesses get added value out of the cloud and software services they already use through our leading network. It's the foundation for all of our integrated cloud solutions. As a result, the network's performance and scale provides highly-secure access to key, cloud-based applications from nearly anywhere and at any time."
Good news global brands
Global companies will welcome this announcement. AT&T NetBond is available not just from three AWS data centres in the US but also Ireland, Frankfurt, Singapore, and Sydney. With Infor customers operating in at least 164 countries this will help reduce latency and improve performance for the global operations that use AT&T MPLS for their own networks. Customers merely need to have additional VPN's configured so there are no additional line installation costs.
There are likely to be additional port costs though, probably based on port access these costs can adjust based on demand. Some companies may offset these by reducing internet access though that is unlikely. AT&T did not reveal how much the additional cost will be in the press release.
Brian Rose, senior vice president, Infor Labs commented: "AT&T NetBond provides a fast and reliable connection to the Infor Cloud environment. AT&T NetBond lets us integrate seamlessly and securely with our customers' networks. Further, it simplifies network management for an optimized customer experience."
AWS Direct Connect Bundles
These are not the only AWS direct connect bundles available. Level3 Communications has connected Amazon workspaces to Level 3 Cloud Connect. Verizon and Riverbed already have a bundled solution that integrates the Riverbed Hybrid SDN/NFV Architecture to Verizon secure connect. Finally Megaport has enabled secure access to Aviatrix, increasing the extent of their major cloud SDN connections.
Verizon will need to see whether their customer base also wants direct connection to SaaS providers such as Infor. With AWS:REinvent in Las Vegas this week there are probably a lot of Infor and Pegasystems customers in attendance. They may start asking questions of their network providers about why they cannot offer a similar solution
Conclusion
Previous announcement have seen private connections to major players such as Office 365 using Microsoft Expressroute and Salesforce. AT&T is now looking to enhance their offering in the mid-large enterprises with this announcement. This is a relatively untapped market.
With DDoS attacks on the rise Internet reliability is being questioned more and more. Companies looking to run business critical solutions in the cloud can choose to eliminate the risk of downtime through internet outage. They will have to balance the additional cost against what is perceived as a growing risk.