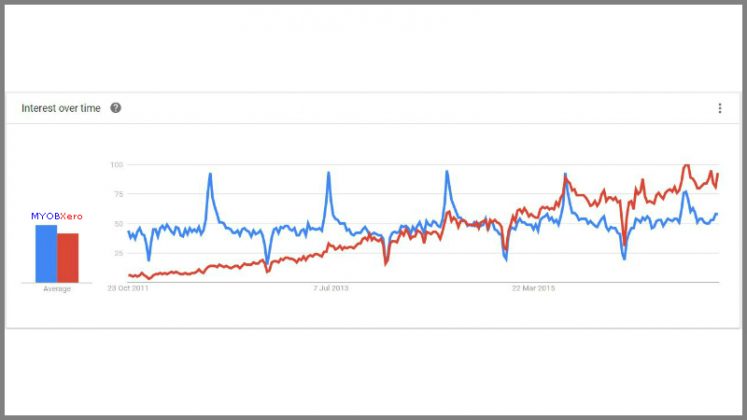 Last week Xero was voted the preferred accounting solution, by Australian accountants, in a survey released by the Financial Review with 47.3%. The survey was carried out by Smithink but only reached 300 accounting firms. That number is below 1% of the total number of accounting firms, according to a recent IBIS report. That indicated there are 32,187 businesses offering accounting services in Australia.
The picture above indicates the use of MYOB and XERO in search terms on Google over the last five years. It shows how Xero has leapt above MYOB and shows little sign of slowing.
Can MYOB halt the momentum?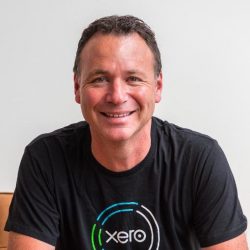 As recently as August 2014, MYOB had a 75% market share compared to Xero according to Business Insider, with most of that share being legacy software. If Xero is winning the hearts and minds of the Australian accountants, then the battle is almost over. Trent Innes, Managing Director Xero Australia is very happy with these figures, according to his recent blog, which contains the full breakdown. It shows that MYOB AccountRight Live is in a poor second with 19.4% share with the remaining accounting suites in single digit percentages. Intuit Quickbooks Online managing only 6.8%.
If the same survey is carried out next year, that is when Xero will know whether they have won the battle, which even now seems almost over. Xero has won the battle in New Zealand already and it seems it is winning in Australia too. MYOB will almost certainly fight back though, and Sage One, only recently launched, may develop into a competitor. The problem for them is momentum, and the network that Xero has built up. As Innes wrote: "People don't just want a software accounting product: they want the opportunity to connect with others; to improve and grow their business. That's what our partners tell us. That's why uptake will continue to grow. And that's where Xero, and it's connected marketplace, thrives."
Xero are continuing to develop their software. Not just for the SME's but also delivering functionality for accountants.  
The promise of new tools
Innes tantalised his readers with a glimpse of what is on the horizon. A new partner advisory directory, one of the most comprehensive globally. The question will not be whether accountants should be using Xero or MYOB but can they afford not to be on the Xero directory. Accounting Partners will be able to look at individual clients or segment their data by industry, apps or banking partners. This enables accountants to have a visibility of which market segments they need to spend more time on or be concerned about.
Conclusion
While we wait for a future survey to confirm whether Xero has any serious competitors in the Australian market, eyes will turn elsewhere. In the UK and USA, the heartland of Sage Group and Intuit Xero has gained market share. Whether they continue to grow remains to be seen. Sage is fighting back though, pouring development money into products such as Sage Live. Sitting on Salesforce, it is linking with a platform that can easily match Xero. Sage also has Sage One its online accounting package and has had more time than MYOB to mount its defence. In the US, Quickbooks seems to be losing market share as well, though Xero has had even less time in that market to grow. The next year will be interesting.