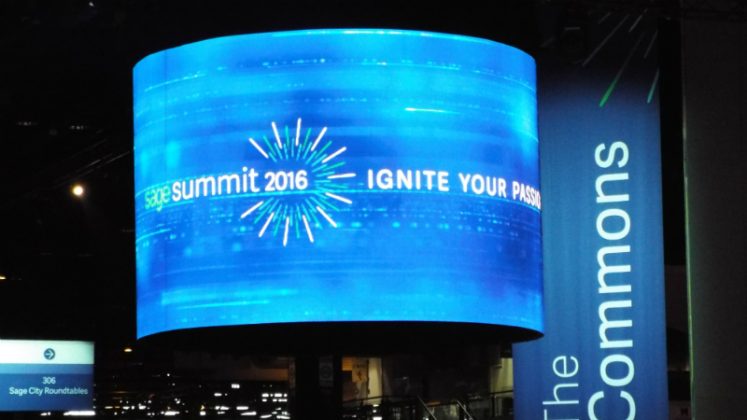 At Sage Summit in Chicago the company quietly announced some significant news around their Enterprise ERP solution X3. Originally developed in France X3 is at the top end of the Sage product line and caters to enterprise customers, often with several hundred employees. While the keynotes were devoid of specific product updates there was clearly some product news that they wanted to share.
Version 10
Sage announced the release of update 10 for X3 cloud version. There will be no on-premises update until update 11, which is due out in February. This is mainly because of the operational overhead that customers encounter when upgrading the on-premises solution. The feeling is that customers only want a single update a year. The update will be on general release in August but was demonstrated in the Sage Summit village to attendees.
The press release is scant on detail about the update although some of the additional functionality appears to be around Sage X3 Distribution Cloud. These iterative improvements have lead Sage to grow its customer base by around 29% globally in the last 12 months. We have requested further detail about that figure and exactly what it relates to, and hope to update the article with a comment later. Actual customer numbers were not available though.
New partnerships
Sage has made several strategic partnership announcements during the summit. Three of these directly impact X3, or will do in the future. These are Fairsail, Cloud-Elements and XM Developments
Cloud-elements
Sage has signed a strategic agreement with Cloud-elements. Part of this partnership will see the creation of Sage Hubs. These will enable ISV's to integrate their solutions into not one but all Sage software products over time. X3 is not yet on the platform yet but it soon will be.
Power to the people
Sage X3 already has a light CRM solution within its software. Sage intends to leverage its relationship with Fairsail. This means integrating and selling the global HR solution alongside X3 as the Sage X3 People Cloud. The Fairsail Payflow integration will enable X3 customers to integrate their HR Solution into the financial element of X3 and payroll. While this integration will get deeper over time it is currently being delivered through API's rather than Sage Integration Cloud. However according to Colin Cooper, CTO at Fairsail they are looking into using this as well.
This will give X3 access to probably the only full HRM solution aimed at medium sized multinationals. Sage is part owner of Fairsail. It will be interesting to see how much closer this relationship gets and how successfully Sage integrates it into other applications. The current private nature of the integration could see the growth of X3 accelerate. Fairsail already have an astonishing growth rate of 40% quarter on quarter. Adam Hale, CEO of Fairsail commented: "By partnering with Sage X3, we're offering midsize enterprises a faster and simpler global solution that improves workforce visibility, increases HR productivity and delivers great workforce experiences."
Sage will hope that the Fairsail integration and the increased pace of development within X3 can increase market share. David Krauss, Global Vice President of Product Marketing for Sage's enterprise cloud solutions commented: "We have a clear cloud strategy for Sage X3, building up a comprehensive cloud offering in every domain, for midsize and enterprise businesses to manage their finance, distribution, manufacturing, and HR processes more effectively."
"We refuse to stand still, and are continuously improving the solution for our customers. The Sage X3 partnership with Fairsail sums up what we are doing: providing customers with simple access to the best possible functionality available in the industry to run their business faster, on one, cohesive enterprise cloud business management platform. We aren't just partnering; we're investing. Our partnerships prove that."
E-Commerce
The X3 strength traditional lies within manufacturing and distribution within the US. To meet the growing demand for manufacturers to sell direct to consumers they have announced a partnership with XM Developments. XM developments produce mobile commerce solutions. Alongside a new connector with Salesforce CRM Enterprise Editions it will help distributors and manufactures alike. The new ecommerce solution will specifically provide the following benefits to distributors:
Ensures webstore data are consistent with product, inventory, sales and customer data at all times.
Boosts online sales with advanced cross-sell and digital marketing capabilities.
Accelerates the creation of new stores by using pre-built templates available for specific industries.
Integrates with payment processing platforms (Sage Pay), and delivers enterprise class security and scalability
Ensures ongoing compatibility with future Sage X3 releases.
The Future for X3
Next year further updates are planned. Alongside version 11 there will be improvements to Manufacturing with shop floor tracking and Salesforce lightning integration. When version 12 is released in H2 there will be improvements to project management and a cloud production scheduler.
Conclusion
This announcement moves X3 forward and shows that with Sage concentrating its development efforts on its three core solutions, Sage One, Sage Live and X3,  the benefits are likely to come faster and faster. Although many customers have waited years for updates to their Sage products that seems to have changed. At this summit, Stephen Kelly, CEO mentioned later in the year in Spain there will be four major product announcements. This will be the first time in several years that this has happened.
The mood among the X3 and Sage staff is buoyant. The Sage values are reenergized and through employee engagement it seems that exciting things are happening at Sage. Kelly is fully aware that they serve the SMB market. He also seems to be bringing some of the belief that a start-up often has into Sage. It will be interesting to see whether their market share grows over the next few months. There will also be a lot of interest in how much difference the Fairsail and XM developments integrations make.