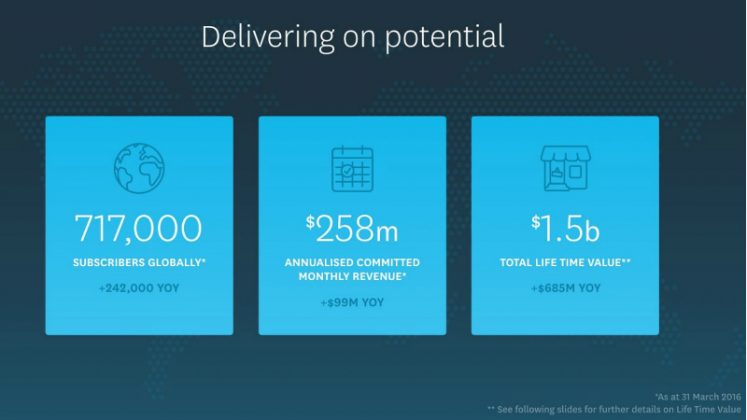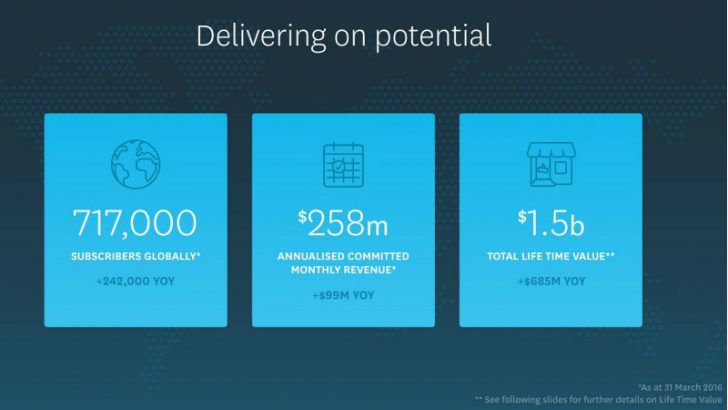 At its annual shareholders meeting in Sydney Xero celebrated its success and looked forward to a bright future. Achieving NZ$1.5 billion in revenue (US$ 1bn) in its lifetime is a significant step in its growth. Xero also now claims to be the market­-leading small business cloud accounting software in Australia, New Zealand and the United Kingdom, based on the number of subscriptions.
It has also reached the breakeven point in its cash flow. They believe they are now approaching break even point in cash flow within their current cash balance. This means it will now be able to reinvest in itself without the need to raise additional funds. It may still choose to seek additional funds as it continues its expansion. At present, Zero claims its software is being used in over 180 countries. This statistic does not reflect Xero's language capability which is still limited. Instead it probably means that Xero is being accessed from those countries.
The numbers just keep getting better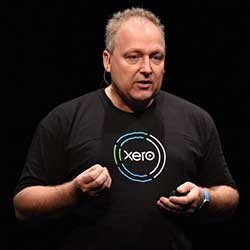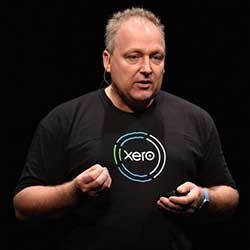 The revenue figures are impressive though. At the full year 2016 in May it reached a monthly revenue figure of NZ$257.9 million and operating revenues of NZ$207 million. It has increased its annual revenue by NZ$685 million and is on track to reach US$1 billion annual revenue for the 2017 full year. Based on our analysis of their existing growth they appear to be on target to reach a US$1 billion annual revenue in the full year 2017.
As Rod Drury, Xero CEO comments: "Xero is well on its way to rewiring the small business economy as we know it, making accounting more efficient, more productive and more useful to Xero's customers and the millions of businesses worldwide who have not yet accessed the cloud. Recent global economic volatility has highlighted an opportunity for companies like ours to build a diversified global growth strategy, with an innovative and scalable product and platform, to establish and maintain momentum in customer growth."
The comparison between March 2015 and March 2016 are almost staggering. In March 2015 Xero had 475,000 subscribers which grew to 717,000 by March 2016. More impressive is that the churn figure dropped from 1.23% to 1.19%. This is extremely low, especially when you consider how many small businesses fail in the first few years. Gross margin has also increased with the year on year figure moving from 70% to 76%. Perhaps surprisingly cash outflows have dropped. While there is little explanation for this, it could be seen as a good thing for shareholders but there is a question why further investment is not being made to continue the impressive growth.
Xero the anglophone accounting solution
Xero only operates in a few markets, primarily New Zealand, Australia, UK and North America. This year it launched in Singapore, Malaysia and Hong Kong, opening a South East Asia head office in Singapore. It will soon be launching in South Africa as well but there is still no talk of full multiple language support though.
In terms of the existing markets one questions how much growth potential there still is in New Zealand especially. Xero is increasing subscribers across the board:
| | | |
| --- | --- | --- |
| Country | 2016 | 2015 |
| New Zealand | 186,000 |  138,000 |
| Australia | 312,000 | 203,000 |
| United Kingdom | 133,000 | 83,000 |
| North America | 62,000 | 35,000 |
| Other Markets | 24,000 | 16,000 |
Keeping prices low int he US has helped Xero penetrate that market. It has also been rolling out payroll support state by state over the last few months. By the end of 2016 it hopes to have coverage for almost all states. Growth in the UK may also be slowing slightly as Sage starts to fight back in its home market.
Business Networks key
The latest buzz in the ERP industry is business networks. This follows from academic thinking such as that by the IMP Group that sees companies creating a mesh of relationships around them. Xero has been creating its own financial web, and sees this as a means to aid small businesses. Its recent agreement with Wells Fargo has enabled it to become an accounting solution of choice earlier in the process in the lifecycle of small businesses. If start-ups select their bank before their accountant it means they are already using software before the accountant can recommend one.
Xero has agreements with more than 80 financial institutions. This includes Commonwealth Bank, Barclays, HSBC and National Australia Bank allowing users to set up banking feeds. In new regions such as South East Asia, the launch took place alongside financial institutions to maximise the opportunity. Xero does not forget the more traditional routes though. It recently held a forum  in South Africa to gauge interest before launching there.
A second type of business network promoted by Xero is their app marketplace. This platform helps companies link other applications into Xero. Apps include Crunchboards, iZettle, Expensify, Receipt Bank, Vend, Shopify, Paypal and TSheets. In total there are more than 500 apps in the marketplace that small business can use. The open API that Xero provides is allowing developers to create apps that can join the marketplace. This will add further strength to the Xero platform.
What does the future hold
There is little in the shareholder presentation about future growth plans. Xero have been reticent in announcing whether they have yet achieved the 1 million subscribers they are aiming for. It does seem likely that they will reach the target by the end of the calendar year.
Xero is looking to grow its financial web and it seems that more announcements will be imminent in that area. It also spoke about front office services but gave no details. One wonders whether it will add CRM and start becoming more of an ERP than accounting solution. It also opens the possibility of acquisitions. It is already capable of this through its app marketplace.
Chris Liddell, Xero Chair commented: "Xero has significant opportunities ahead, with a huge addressable global market, an established product and platform, strong execution, improving margins and cash discipline. And through our global relationships with major banks and financial institutions, we are forging a financial web that will redefine how small businesses access capital and services they need to grow, and really light a fire under small businesses globally."
Conclusion
Although the statistics are now several months old, collating them together indicates the success that Xero is enjoying. Rod Drury is clearly proud of almost reaching the $1 billion revenue figure. In a blog Drury commented: "There's a lot of talk among tech startups these days of reaching a $1 billion market valuation and joining the halls of so-called 'unicorns'. Few of those who do reach that status, however, ever achieve $1 billion in annual revenues. That's a far harder task."
He will pleased by the reaction of the market too. Xero is up 3.47% to NZ$18.80 on the day with a market cap of NZ$2.5bn. The future looks positive for Xero . Although there is no talk of raising funds to help with expansion Drury is not looking to stand still. He commented: "We have an unrelenting pace of innovation in an industry that used to be dictated by slow, out-of-date desktop software and accounting ledgers strewn across computers. We're taking advantage of cutting-edge technology, such as the Amazon Web Services public cloud, that enables us to innovate faster than before and push into new geographies."
Moving to AWS will help Xero to expand, especially in the US. Xero are not the only business solution AWS is hosting. Infor has a long and close partnership with AWS. Compiere, Aptean's open source ERP solution also uses AWS.
This next year is a crucial for Xero. It needs to continue expanding its share of the UK and US market especially. Xero also needs to work out how it can expand beyond English speaking nations. It will be interesting to see which non English speaking country it opts to operate in first.